What a Chinese Mobile Megamerger Would Mean for the 5G Race
(Bloomberg) -- China is betting that bulking up its phone companies will help the country keep its edge in the race for 5G.
A merger of two of China's three carriers under consideration -- China United Network Communications Group Co. and China Telecommunications Corp. -- could make it easier to spend on gear for the next generation of mobile technology, speeding its development. Shares of China Tower Corp. dropped for a second day Wednesday, as investors expect it'll get cut out of infrastructure opportunities with a tie-up.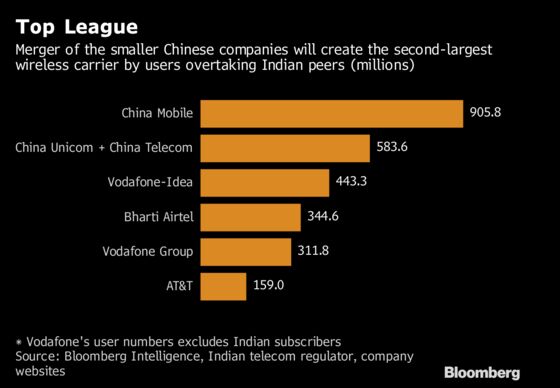 China has a narrow lead over South Korea, the U.S. and Japan when it comes to readiness, according to Analysys Mason. The timing of the possible telecom combination in Asia's largest economy reflects that after years of talks, a global push for 5G is set to finally take hold in 2018 with the first large-scale infrastructure rollouts to enable services like automated manufacturing, remote surgery, driverless cars and traffic control.
The technology provides much more capacity than 4G, and promises speeds fast enough to download a full-length high-definition movie in seconds. By the end of 2023, there will be 1 billion 5G subscriptions, accounting for around 20 percent of mobile data traffic, according to Ericsson AB, the Swedish maker of wireless networks.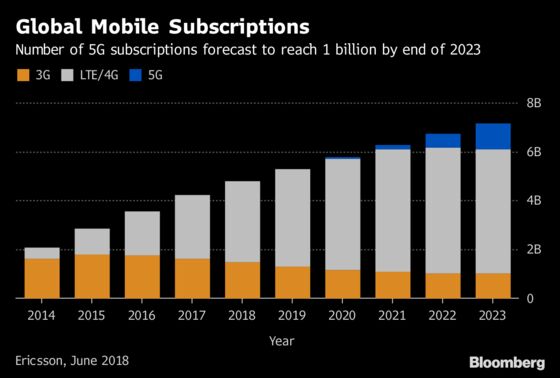 Here's how major players in the global 5G race stack up:
China -- top for 5G readiness due to proactive government policies and industry momentum, according to Analysys Mason -- started trials in 13 major cities this year. It targets commercial application by 2020, but has yet to allot 5G commercial licenses or spectrum, clouding the timeline for investments and rollout schedules.
The price tag for the country could be as much as 1.4 trillion yuan ($200 billion) over five to seven years on 5G, according to Nomura Asset Management analyst Bing Duan, 70 percent more than it spent on 4G services.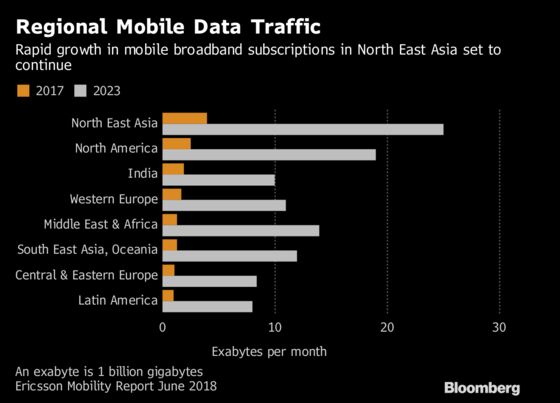 South Korea seeks to be the world's first nation to offer commercial 5G services, with a targeted start date of March 2019. It tested its 5G technology during the Winter Olympics in February with self-driving cars, virtual reality games and a motion-detection system to ward off menacing wild boars. The country brought in $3.3 billion from a sale of wireless spectrum set aside for 5G in June.
Operators in the U.S. are also vying to be among the first to turn 5G tests into commercial offerings, with the four major operators all planning to start services between late 2018 and mid-2019.
NTT Docomo Inc., the wireless carrier unit of Japan's former telephone monopoly, said it expects to introduce commercial 5G in 2020. NTT Docomo's largest rival KDDI Corp. is also planning to launch the same year.
The third-largest Asian nation plans to roll out commercial 5G services by 2022 with some pilot projects starting as early as 2020. India's telecom regulator last month suggested floor prices for auctioning airwaves dedicated for 5G and hasn't set a timeline for a sale.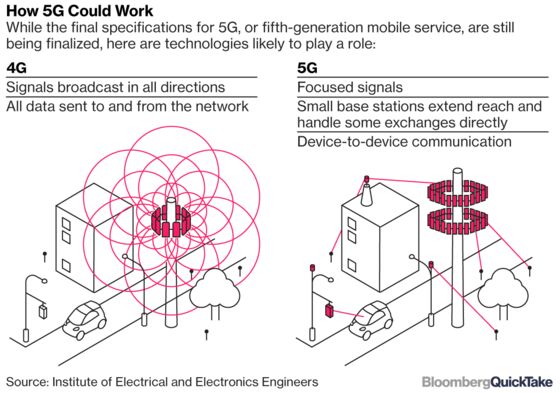 The government wants to cover the majority of the population with 5G by 2027. BT Group Plc aims to be the first carrier to roll out consumer-facing 5G around August 2019. Britain sold some 5G-ready spectrum in an April auction that raised 1.36 billion pounds ($1.74 billion) -- more than expected -- and has plans to sell other spectrum next year.
The Communications Ministry wants to start 5G networks in the country's eight largest cities in 2020, meaning the necessary spectrum could be awarded next year.
The government aims to allocate frequencies and have at least a major city 5G-enabled by 2020. At the 2024 Paris Olympic Games, France will aim to showcase a mature 5G network.