WeWork Posts Narrower Loss in First Results Since Going Public
(Bloomberg) -- WeWork Inc.'s loss narrowed in the third quarter, giving the stock a lift after its first financial results as a public company.
The loss was $4.54 cents a share in the period that ended in September, compared with $5.51 a year ago, the New York-based company said in a statement Monday. Sales declined 18% to $661 million in the quarter.
The company, which rents office space, went public last month by merging with a blank-check company. Trading has been volatile since then. On Friday, the stock fell 80 cents below the $10 initial price of the blank-check company it merged with. It rose as much as 6.3% to $9.76 in the first hour of trading Monday following the report.
The current business is different in many ways from its predecessor, which was rejected by public investors two years ago. It has fewer apparent conflicts of interest, a smaller staff and a new chief executive officer, a longtime real estate executive named Sandeep Mathrani.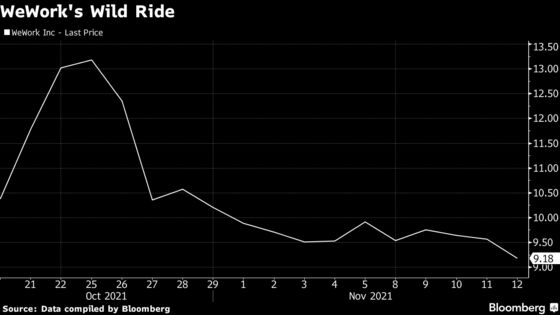 The shares got a slight boost last week thanks to Adam Neumann. The co-founder gave a rare public interview in which he expressed regrets about his time in charge and proclaimed that WeWork has a "bright future."
Mathrani's WeWork remains similar to Neumann's in that it still loses a great deal of money. The loss was nearly $3 billion in the first half of the year, three times wider than in the same period in 2019.
Effects of the coronavirus pandemic hit WeWork hard. Many customers ended their leases and kept workers at home. The company said it's making progress bringing people back. The occupancy rate in October is expected to be 59%, up from 56% in September.