WeWork Would Top JPMorgan in NYC Office Space With 1 World Trade Center Lease 
(Bloomberg) -- WeWork Cos. is in talks to lease space at 1 World Trade Center, according to a person with knowledge of the discussions, putting the co-working giant on a path to become Manhattan's largest office tenant.
The company is negotiating to take about 200,000 square feet (18,600 square meters) in the lower Manhattan skyscraper, according to the person, who asked not to be identified because the matter is private.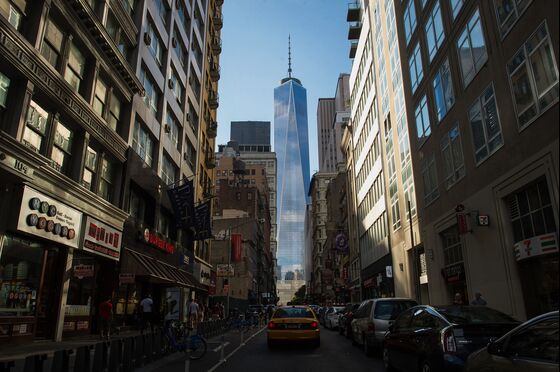 If the deal goes through, WeWork would surpass JPMorgan Chase & Co. as the company with the largest amount of office space in Manhattan. Brokerage Cushman & Wakefield puts the co-working company now at No. 2, with 5.14 million square feet of offices, compared with the bank's 5.2 million square feet.
The building, which opened in 2014, is the tallest office tower in the Western Hemisphere. A spokesman for its developer, the Port Authority of New York and New Jersey, declined to comment. Representatives for WeWork and the Durst Organization, which manages, operates and leases the property, also declined to comment.
WeWork's co-working business has grown rapidly around the world in the past eight years as the company packs more and more tenants into its rental office locations. That has helped drive WeWork's revenue up 110 percent in the first quarter from a year earlier to $342 million, and with hefty investments from SoftBank Group Corp., WeWork also has the cash it needs to fuel its expansion.
An executive at SoftBank said in June that WeWork is seeking to raise funds at a $35 billion valuation. The office-sharing company had about 200 locations in the U.S. at the end of the second quarter, according to Cushman & Wakefield.
New York City has more co-working space than any other market, with about 12 million square feet -- 10.7 million square feet of that in Manhattan -- as of midyear, data from the brokerage show.
Crain's New York Business reported Wednesday that WeWork was close to finalizing a large lease at 1 World Trade Center.