Westpac Braces for Shareholder Anger Over Money Laundering Probe
(Bloomberg) -- Westpac Banking Corp. is bracing for a stormy annual general meeting Thursday as shareholders prepare to rebuke the lender over accusations it committed the biggest breach of money laundering laws in Australian history.
Protest votes against both its pay report and the re-election of some directors loom following ballot recommendations from influential proxy advisers and the local retail shareholders' association.
Yet the bank may have warded off the threat of a motion to oust the entire board after none of the major advisory or industry groups said they would back such a radical move. Some powerful industry pension funds have thrown their support behind the board, arguing there has been enough bloodletting.
Australia's oldest bank has been rocked by allegations from the financial crimes agency that it breached money laundering laws more than 23 million times, including failing to detect payments linked to child exploitation. The scandal has wiped more than A$8 billion ($5.5 billion) off the lender's market capitalization, cost former Chief Executive Officer Brian Hartzer his job and prompted Chairman Lindsay Maxsted to bring forward his retirement.
Westpac said Monday it intends to admit a large number of the allegations and is "determined to resolve" the matter with the Australian Transaction Reports and Analysis Centre.
"Voting is not to condone what happened," said Sam Sicilia, chief investment officer at Hostplus, which has assets under management of A$43 billion and will be voting in support of both the pay report and re-election of directors.
"The price was paid and the organization needs to learn," Sicilia said. "Things need time to repair themselves."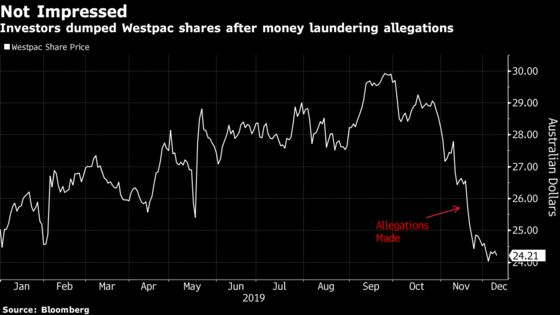 UniSuper, which manages A$80 billion in pension savings, is also backing the board on Thursday, as is the umbrella group for the pension industry, the Australian Council of Superannuation Investors, despite its belief that more board renewal will be needed in the new year.
That's not to say that the bank is in the clear. Even before the money laundering case, it's been a painful year for shareholders, with the lender posting its first drop in profits in a decade and the cost of compensating customers for past misconduct soaring.
Last year, 64% of shareholders at the Sydney-based lender voted against Westpac's remuneration report after a government-appointed inquiry exposed widespread misconduct across the banking industry. That means if more than 25% vote against it on Thursday -- a plausible outcome -- it would trigger a so-called spill motion which, if passed by a majority, would force all directors to seek re-election.
But even those favoring a second strike on pay -- such as proxy adviser Institutional Shareholder Services Inc. -- are planning to ultimately vote to keep the board in place.
"The organization needs to maintain a certain degree of stability," Australian Shareholders' Association representative Carol Limmer said. "That's why we're not voting for a spill motion."
| Who backs what... | Pay report | Spill motion | Re-election Peter Marriott | Re-election Nerida Caesar |
| --- | --- | --- | --- | --- |
| ISS | Against | Against | Against | Against |
| Ownership Matters | For | Against | For | For |
| CGI Glass Lewis | For | Against | Against | For |
| Australian Shareholders' Association | Against | Against | Against | For |
| Australian Council of Superannuation Investors | For | Against | For | For |
With the head of the risk committee Ewen Crouch having pulled out from standing, discontent may instead center on the re-election of director Peter Marriott, a former executive at rival Australia & New Zealand Banking Group Ltd. who has sat on the board since 2013.
Due to his tenure and experience, "his normative accountability for the Austrac matters is high" CGI Glass Lewis said in a report to its clients, recommending a vote against Marriott's re-election.
Even at the best of times, AGMs represent the main opportunity for small shareholders to make their grievances known to management, and Westpac is prepared for vocal complaints from the floor.
"From discussion with the chairman, I think he's expecting a pretty long meeting," Limmer said. "There will likely be quite a number of shareholders who will want to have their feelings known to the organization."