Westchester Runs Out of Home Listings in Rush to NYC Suburbs
(Bloomberg) -- New York area homebuyers have been scooping up suburban properties at such a ferocious pace that they've drained the supply of listings in tony Westchester County. 
At the current pace of deals, it would take just 1.3 months to sell all the single-family homes available in the county at the end of the fourth quarter, appraiser Miller Samuel Inc. and brokerage Douglas Elliman Real Estate said in a report Thursday. That's the shortest time in the firms' records, which go back to 1994.
"We're seeing the fastest-moving market in history," said Jonathan Miller, president of Miller Samuel.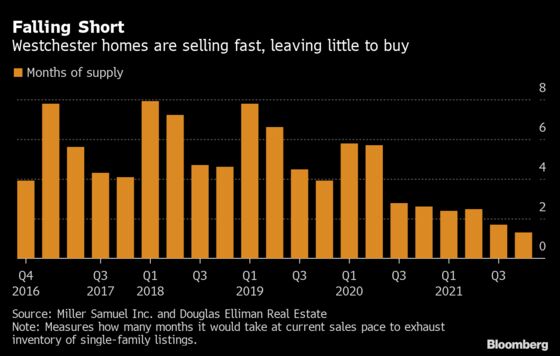 Westchester County -- just north of New York City and home to pricey towns such as Scarsdale, Larchmont, Rye and Bronxville -- is on the receiving end of the pandemic rush to the suburbs, but buyers largely have picked the market clean. As houses, particularly moderately priced ones, get listed, they sell quickly, often drawing multiple bids.
Even with little to buy, single-family deals jumped 11% from a year earlier to 1,693. That's down almost 30% from the record reached in the third quarter, partly due to a traditional seasonal slowdown that had been mostly absent during the pandemic rally, Miller said.
While prices slipped 1.8% to a median of $725,000, it was likely because of the mix of houses selling in the quarter shifted toward the lower end, according to Miller. 
That doesn't mean it's easy for first-time buyers, who are losing out to bidding wars or simply getting priced out, said Joe Houlihan, broker at Houlihan & O'Malley Real Estate in Bronxville.
A four-bedroom home in Larchmont, put on the market a week ago for $879,000, drew 100 people at the open house and now has an accepted offer, Houlihan said.
It's hard for buyers who are stretching their budgets. Take the young family trying for five months to upgrade from a townhouse to a single-family home in Bronxville. At their price range of below $2 million, there's hardly anything available. They've made four offers, and all were rejected, said Houlihan, whose company represents them.
"They bid and the sellers are just not flexible," Houlihan said.