Wells Fargo Shares Slump as Pain From Lower Rates Sets In
(Bloomberg) -- Wells Fargo & Co. is already feeling the sting of falling rates.
Net interest income, the difference between what the bank charges borrowers and what it pays depositors, fell to the lowest since 2016. That brought the net interest margin to a lower-than-expected 2.82%.
Declining interest rates and a potential Federal Reserve cut have fueled concern across Wall Street about how much and how soon banks will suffer. In April, Wells Fargo said it expected interest income to fall as much as 5%, hurting the stock at the time. NII in the second quarter fell 4% to $12.1 billion, below the lowest analyst estimate.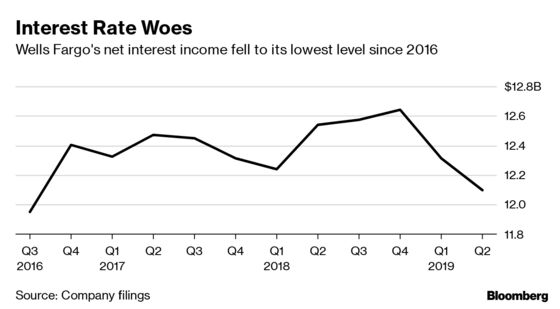 A bright spot in the quarter: The bank continued to win business from consumers, with primary checking accounts up 1.3% from a year earlier. Deposits and loan balances at midyear climbed from the previous quarter as well as the same period a year earlier. And Wells Fargo reported growth in first-mortgage and auto-loan originations.
"Core fundamentals that every bank needs to grow are starting to improve a little bit," Kyle Sanders, an analyst at Edward Jones, said in an interview. "Checking accounts are growing again, this was the best quarter of loan growth that they've done in the last couple years, deposits are growing."
Still, mortgage-banking income at the biggest U.S. home lender came in at $758 million, the worst second quarter in years, despite a 40% surge in refinancings across the industry on lower rates.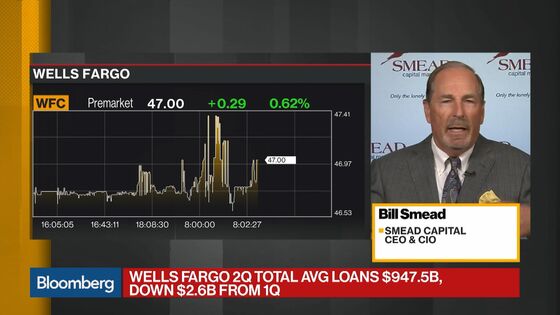 Tuesday marks the second consecutive period Wells Fargo has reported results under an interim chief executive officer, Allen Parker, the bank's former general counsel. He took over in March after Tim Sloan abruptly stepped down, succumbing to political pressure and regulatory dissatisfaction. Wells Fargo's board is searching outside the bank for its next leader.
Wells Fargo shares fell 0.7% to $46.38 at 9:38 a.m. in New York. They've risen 0.6% this year, compared with a 14% increase in the 24-company KBW Bank Index.
More about Wells Fargo's second-quarter results:
The bank's efficiency ratio, a measure of profitability, improved to 62.3% from 64.4% in the first quarter. Sloan had been targeting 55% to 59% in the long term, excluding litigation costs.
Non-interest expense fell 4% to $13.4 billion. After Sloan stepped down, Chief Financial Officer John Shrewsberry reiterated Wells Fargo's commitment to a non-interest expense target of $52 billion to $53 billion for 2019, but deferred to a future CEO on 2020 guidance.
Revenue was little changed at $21.6 billion, compared with analyst expectations of a 3% decrease.
Net income climbed 20% to $6.21 billion, or $1.30 per share. Analysts expected a 1.5% increase.