Even Wedding Planning Involves Leveraged Loans
(Bloomberg Opinion) -- Weddings are expensive. So is financing a merger to create a behemoth in the $250 billion industry. 
WeddingWire Inc. is in the debt markets this week, offering more than $600 million of speculative-grade loans to fund its announced take-private transaction of XO Group Inc., the company behind "The Knot" website. Bloomberg News reports that there will be a lender call on Wednesday, with initial price talk signaling that its $450 million of first-lien obligations will offer 450 to 475 basis points above the London Interbank Offered Rate. The company's $175 million of second-lien securities will probably price at 825 basis points above the borrowing benchmark, which would mean a double-digit interest rate.
That's a steep cost — though it makes some sense when considering S&P Global Ratings gives the lower-tier debt a CCC+ grade, saying investors should expect a recovery of 10 percent at best in the event of a default. The average spread for similarly rated deals this year was between 750 and 775 basis points, according to data crunched by Bloomberg's Lara Wieczezynski. The first-lien securities are ranked three steps higher, at B+, and should recoup 70 percent to 90 percent in a default.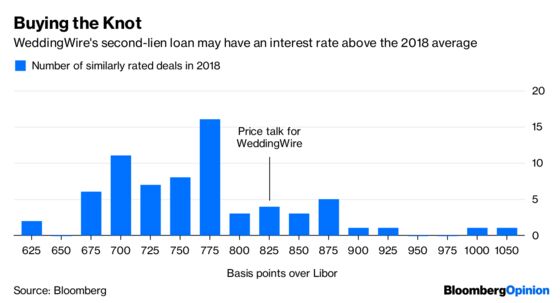 It's a test of demand that the $1.3 trillion leveraged-loan market would easily pass ordinarily. After all, investors just can't seem to get enough of the securities' high yields and floating interest rates, which rise as the Federal Reserve tightens monetary policy. They've largely ignored that lender protections are weaker across the board than they were before the financial crisis, focusing instead on a streak of 14 consecutive monthly gains as measured by the S&P/LSTA Leveraged Loan Total Return Index. In the case of WeddingWire specifically, this financing makes a lot of sense — it'll effectively create a one-stop shop for online wedding-planning needs.
But for the first time in recent memory, leveraged loans are starting to look less invincible. The Invesco Senior Loan exchange-traded fund, known by the ticker BKLN, experienced its biggest outflow ever last week, bringing total assets to the lowest level since December 2016. More broadly, leveraged-loan funds lost $7 million for the week ended Oct. 24, according to Lipper data. While that's tiny in the context of the $16.7 billion in 2018 net inflows, it nevertheless marked the first drop since early July.
Most likely it's a short-term hiccup as U.S. Treasury yields tumbled last week, with bond traders reconsidering just how many more times the Fed can raise rates. Yields and rate-hike expectations have since stabilized. Bigger picture, central bank officials recently made explicit for the first time that they're keeping an eye out for any hint of risks to financial stability stemming from leveraged loans. Also this month, Daniel Tarullo, the former Fed regulatory chief, called on regulators to scrutinize risky corporate lending markets and publish the results.
For now, that's unlikely to derail the trend of companies tapping the market. In one of the more prominent examples, Bloomberg News reported last week that Elon Musk's SpaceX is working with Goldman Sachs Group Inc. to raise $500 million of leveraged loans. The closely held company is the third-most valuable venture-backed startup in the U.S. after Uber Technologies Inc. and Airbnb Inc. The former repriced a loan earlier this year.
As for WeddingWire, owned by private-equity sponsors Permira Funds and Spectrum Equity, S&P expects the company's high leverage from the acquisition to come down quickly because of synergies and the potential to reduce "headcount-related redundancies." The combined entity should grow at an 8 percent to 10 percent rate as it's able to "capture both internationally growing wedding vendor-related expenses as well as secular trends toward e-commerce bookings," the credit-rating firm said.
Whether WeddingWire is able to lower the spread on its loans in this slightly less favorable environment remains to be seen. Both of the companies have built up strong reputations over the years, S&P said, among their most crucial advantages. You could say the same thing about the leveraged-loan market.
This column does not necessarily reflect the opinion of the editorial board or Bloomberg LP and its owners.
Brian Chappatta is a Bloomberg Opinion columnist covering debt markets. He previously covered bonds for Bloomberg News. He is also a CFA charterholder.