The Call for Europe Bank Deals Keeps Getting Louder
Calls for European banking consolidation are growing louder, but the next big deal may well happen in the U.S.
European banking needs a reset in a market where scale is everything, UBS Group AG Chairman Axel Weber said Tuesday from the Swiss resort town, where banking consolidation was already high on the agenda last year. Tidjane Thiam, who runs Credit Suisse Group AG, agreed with Weber, while cautioning that obstacles remain in a region that's still fragmented along national borders.
Such obstacles may mean that a wave of mergers may hit the U.S. before making their way to Europe. Bank of America Corp. Chief Executive Officer Brian Moynihan predicts another round of consolidation in the U.S. like the one that created his firm.
European banks have struggled to keep up with Wall Street peers since the financial crisis, in part because the region remains fragmented along national borders. The six biggest U.S. firms just posted their first $100 billion year ever. Compare that to Europe, where one of the largest investment banks -- Deutsche Bank AG -- is still struggling to pull off a turnaround after years of losses.
"The one thing that matters in banking is size," Weber said in an interview, pointing to how Wall Street firms have come back stronger from the financial crisis. "European banks need to reinvent themselves."
Banking chiefs at Davos had already urged European consolidation a year ago, with talk of BNP Paribas SA taking over Commerzbank AG and some analysts predicting that takeovers and mergers would help lift bank stocks in 2018. A year on, no big deal has happened and shares of Europe's lenders are down.
"We hear talk that European regulators are ripe for that consolidation but in the end there's always a nationalist pride of having a national champion or a series of national champions," Citigroup Inc. CEO Michael Corbat said in an interview with Bloomberg, also in Davos. "We'll see how the politicians and regulators come out."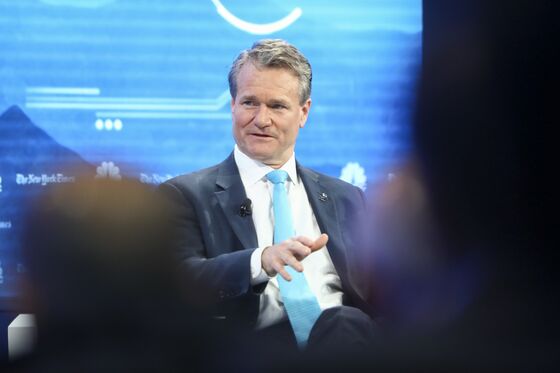 As if to underscore how the continent is further falling behind, Moynihan said another round of consolidation could lead to the emergence of a new competitor -- in the U.S.
"How does somebody emerge? The same way we emerged," Moynihan said on a panel in Davos. "The emergence will come out of the consolidation of another round of people which still has to happen in the United States. There are now 6,000 odd banks, and you'll find them continuing to consolidate."
Corbat said that while the "industrial logic is certainly there for consolidation" in the U.S., appetite for deals among large banks may be limited.
In Europe, such consolidation has proven harder because the region hasn't managed to establish a single banking market. Thiam, speaking in an in interview with Bloomberg TV, said while the "appetite for consolidation" is there in Europe, "structural impediments" make cross-border deals unlikely.
"Until we have a more level playing field," he said, it's "hard to see cross border consolidation."
A case in point is Deutsche Bank. Its woes have fueled discussions -- including at the level of management, regulators and the government -- about a potential merger. During a strategy retreat in September, bank executives concluded that a deal with UBS was the most favorable option among potential European partners, though they determined that the time isn't right, Bloomberg has reported.
Weber on Tuesday downplayed suggestions that his bank may come to the rescue of the German rival, saying he hasn't gotten such a request. UBS doesn't plan any large deals, he said, because it has successfully pivoted to the business of wealth management, where it already is the world's largest provider.
"I don't think UBS will play a role in that," he said about consolidation. "Mergers tie you down for years."