Wealth Manager Anand Rathi Eyes Tax-Efficient Schemes to Grow
(Bloomberg) -- India-based wealth manager Anand Rathi Wealth Ltd. aims to grow its assets under management by 20%-25% annually as the company bets on mutual funds offering tax-efficient plans to attract more investors, a top official said. 
"Simple products like mutual funds given their tax efficiency are gaining momentum over the last decade in India," Feroze Azeez, the deputy chief executive officer at the company, told Bloomberg Television's Haslinda Amin and Rishaad Salamat Wednesday. "Specialized, very customized products have not delivered very efficient returns."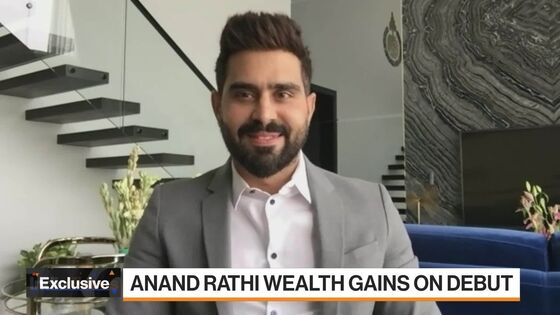 The wealth management firm gained 6% to close at 583.55 rupees ($7.67) on its debut at the Indian bourses and was trading slightly higher at 591.80 rupees as of 10:15 a.m on Wednesday. Its founders and shareholders raised 6.59 billion rupees from the IPO in a market that's been on a tear this year.
Read: Anand Rathi Wealth Gains 12% Over IPO Price in Mumbai Debut
The firm has no plans to offer cryptocurrency services, Azeez said, as it doesn't fit into the company's risk matrix given its more volatile than other asset classes.
The company joins several wealth managers in excluding crypto in its basket of services. India is mulling a ban on all private cryptocurrencies, highlighting the rocky trajectory such digital assets have had in the country.
It had effectively banned crypto transactions in 2018, a decision which was overruled by India's highest court last year. The country's central bank has time and again said that cryptocurrencies pose serious threats to India's financial stability.