Eurozone Growth Set to Remain Weak as Italy Recession Looms
(Bloomberg) -- The euro area is showing no signs of a meaningful economic rebound, with Italy on the verge of recession after the populist government picked a fight with European authorities over spending plans.
Momentum in the 19-nation region is at the weakest level in more than two years, and trade and political uncertainty are dragging confidence lower. Activity last month was weighed down by Italy, where the risks of a second quarterly contraction are rising.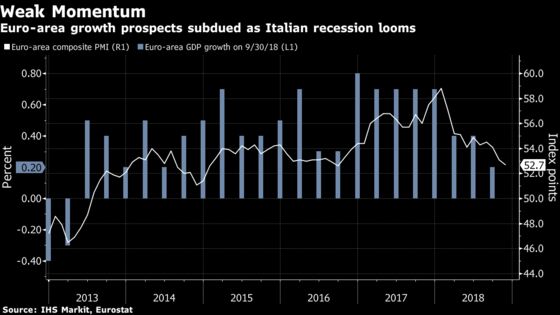 The data come at a crucial time for the European Central Bank, where policy makers are confronting continued signs of economic weakening before a final decision on their bond-buying program. Officials have left no doubt they're determined to cap asset purchases at year-end, pledging to maintain a significant degree of stimulus through reinvestments of maturing bonds.
"The region remains stuck in a soft-patch," said Chris Williamson, an economist at IHS Markit. "The survey responses highlighted intensifying headwinds of Brexit and trade-war worries, a struggling autos sector and rising uncertainty regarding the economic and political outlook."
Prospects in Italy are particularly gloomy. The government has been locked in a tussle with the European Commission over its expansionary budget program since it came to power six months ago. Manufacturing in the country has shrunk for two months, and the unemployment rate, already among the highest in the 19-nation euro area, has increased.
In the U.K., where lawmakers are debating Prime Minister Theresa May's Brexit proposal, growth in the dominant services industry came perilously close to a halt, with a Purchasing Managers' Index signaling economic expansion of just 0.1 percent in the final three months of the year.
What Our Economists Say...
"Unless a Brexit deal passes parliament, concern about the possibility of crashing out of the bloc is likely to keep a lid on growth. Both the soft and hard data will probably be volatile in the near term with a Brexit deadline looming, but we think a deal will eventually pass."

--Niraj Shah and Marco Babic, Bloomberg Economics. See our U.K. INSTANT REACT
A gauge for manufacturing and services in the euro area fell to 52.7 in November from 53.1 in October. In a sign that the slowdown is starting to affect the labor market, employment expanded at its weakest pace in almost two years in November.
The euro has taken a hit amid the softening in economic numbers. It's down 2.5 percent against the dollar in the past three months and has fallen against almost all its G10 peers in that period.
So far, policy makers have argued the region's economy is returning to its normal pace of expansion, with inflation pressures starting to build. Yet, business optimism is at its lowest level since late 2014, adding to "downside risks for growth as we move into 2019," according to Williamson.