Washington Urged to Do More to Protect Essential Farmworkers
(Bloomberg) -- Farmworker advocates in the state of Washington are raising alarm over the pace of progress in shielding workers from the coronavirus, and say recent government guidance is so lenient it could actually make things worse.
On March 19, a committee of both agricultural industry leaders and labor advocates sent Washington Governor Jay Inslee a list of recommendations to help protect staff, including state support in providing protective equipment, testing and temporary housing with enough distance between beds.
The committee, which was established by a bill Inslee signed last May, told him it was urging "immediate action to address this crisis." A week later, worker representatives who signed that letter say the governor hasn't committed to do what's needed.
"We are leaving guest workers to be set up for potential mass exposure," said Erik Nicholson, a national vice president of the United Farm Workers union.
Food producers from farms to processing plants are grappling with the need to keep people fed while safeguarding their workers and complying with broader containment efforts such as travel restrictions that squeeze the supply of migrant workers counted on by the industry. Washington is the top apple-producing state and a major supplier of staples including wheat, potatoes and dairy.
Recommendations in the March 19 letter also include identifying quarantine facilities for agricultural workers, and ensuring guest workers will be compensated for lost wages if they self-quarantine.
Inslee issued a proclamation Monday banning gatherings and shutting down non-essential businesses in the state, which has more than 3,200 confirmed Covid-19 cases and 147 deaths.
Like similar orders elsewhere, Inslee's lets "essential" industries including agriculture stay open, while requiring that they take steps to promote social distancing and sanitation.
But advocates say a guidance document issued this week by Washington's Department of Health, recommending ways to prevent Covid-19 from spreading in temporary worker housing facilities, is so lenient it will actually be counterproductive.
The document's recommendations include that "facilities with a single room should assign sick occupants to one side and occupants without symptoms to the opposite side."
"I just don't see how that is going to protect workers from infection," said Michele Besso, who manages the farmworker unit for the legal non-profit Northwest Justice Project and is part of the committee that sent Inslee the letter last week.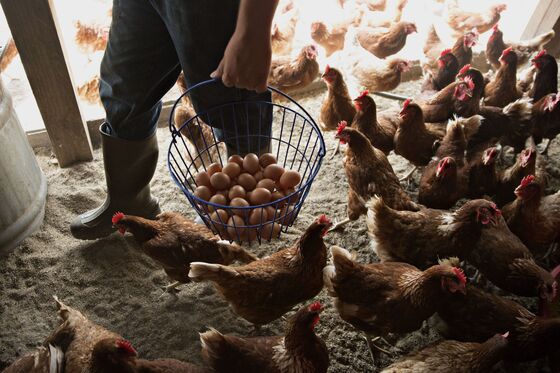 In an emailed statement, Inslee's office said he would continue during the pandemic to be "an unwavering supporter of farm workers and immigrant communities."
Alejandro Sanchez, an Inslee spokesman, said the state is using the memo the advocates sent last week to inform policy decisions, and was "working across the health-care delivery system to make as many services as possible for Covid-19-related illness available to these communities."
Read More: U.S. to Waive Some Interviews for Agriculture Industry Workers
Industry leaders who signed the March 19 letter offered a more positive take on Washington's progress.
"I truly believe we are all doing our best here," Mosby Farms owner Rosella Mosby said in an email. "The governor has to ensure food security for the entire state," and is getting expert guidance on how to address the crisis while maintaining agriculture infrastructure, she said. "I'm sorry that hurts union feelings."
But some farmworkers say their bosses aren't doing enough on their own to protect them. "We're all fearful," said Maria Cisneros, who works at an orchard in Northwest Washington. "We don't know what will happen."
This week, she said, managers told workers to stay six feet apart. A couple hours later, at a meeting about pesticides, staff were packed together as usual, side by side.