Avista Falls as `Political' Risk Foils $3 Billion Hydro One Deal
(Bloomberg) -- Avista Corp. fell the most in 16 years after Washington state regulators rejected the U.S. utility's $3.4 billion takeover by Canada's Hydro One Ltd., citing political risks in Ontario.
Regulators said in a statement Wednesday that the deal isn't in the public interest when Hydro One is subject to "political considerations" from provincial leaders who may not have the company's well being in mind. The sale can't proceed without approval from Washington regulators.
Spokane, Washington-based Avista fell 15 percent to $43.55 at 2:19 p.m. in New York, after sliding as much as 16 percent, the most intraday since June 2002.
The rejection comes almost five months after Ontario Premier Doug Ford ousted Hydro One's board, fulfilling a campaign promise to shake up the utility's executive team. Ford, a businessman who swept into office this year on a populist wave, made electricity bills a key election issue and derided former Hydro One Chief Executive Officer Mayo Schmidt as the "$6 million dollar man," referencing his salary.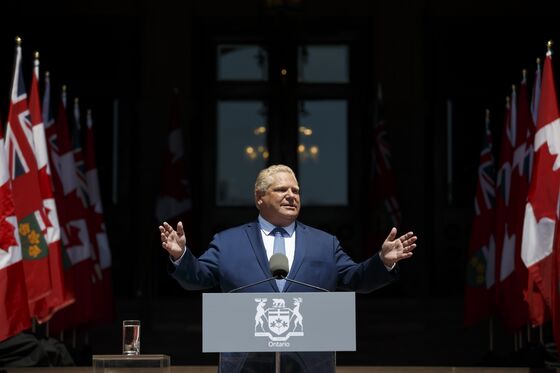 Avista and Hydro One, which is 47 percent owned by Ontario's government, said they are determining next steps and "extremely disappointed" in the decision by the Washington Utilities and Transportation Commission.
Ford defended his Hydro One shakeup Thursday, saying in a statement that the Avista deal was initiated by the former board and CEO who "did nothing to lower hydro rates for Ontario residents."
"Our government ran on a clear promise to clean up the mess at Hydro One," Ford said in the statement. "This included a firm commitment to renew the Hydro One senior leadership that had lost the confidence of Ontario ratepayers."
Hydro One would owe Avista a $103 million break-up fee if the merger isn't approved by regulators, according to a filing with the U.S. Securities and Exchange Commission.
About two weeks after Ford took power in June, Hydro One announced it would replace its board and that Schmidt would retire.
In their decision Wednesday, Washington regulators said government interference at Hydro One could filter down to Avista if the deal went through.
"This, in turn, could diminish Avista's ability to continue providing safe and reliable electrical and natural gas service to its customers in Washington," the regulators said.