Warren Raises Doubts on Pentagon Bid to Get Cash to Contractors
(Bloomberg) -- Senator Elizabeth Warren is questioning whether the Pentagon's policy of increasing payment rates for contractors -- intended to keep assembly lines humming during the coronavirus outbreak -- has sufficient oversight and is helping the companies which need it most.
Warren, who raised her doubts in an April 30 letter, is the first lawmaker on a congressional defense committee to publicly question the rationale for the increased rates, and whether the Pentagon will ensure payments flow to subcontractors.
The Massachusetts lawmaker, who ran for the Democratic presidential nomination this year, is on the Senate Armed Services committee.
The higher payment rates the Pentagon instituted in April "may be a cash subsidy that largely benefits big defense companies that can better withstand the economic shock caused by coronavirus," Warren wrote Pentagon acquisition chief Ellen Lord in the previously undisclosed letter.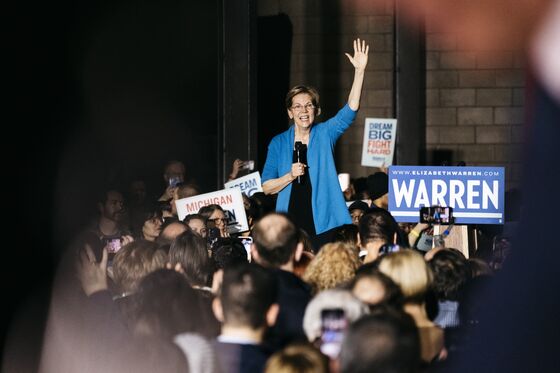 Lord said last week that the advanced payments flowing to contractors will not exceed a $3 billion level previously approved. The policy allows the department to boost payments to large companies to 90% of incurred costs, from 80%. For small businesses, the rate rose to 95% from 90%.
The funding is for contracts in progress but not yet completed, and is meant to help cover costs for companies which would otherwise struggle to keep production lines open amid the Covid-19 pandemic. About 1,400 contracts have been affected so far, but the policy has raised questions over whether major contractors are passing along the payments in a timely manner.
"The current playing field of DoD contract financing is already heavily tilted in favor of large contractors," Warren wrote. Those companies can invoice and receive progress payments for subcontracted services and products, either in progress or completed, before having to pay their subcontractors, she said.
Lieutenant Colonel Mike Andrews, a spokesman for Lord, said in a statement that Warren's letter had been received and that the Pentagon "remains committed to the highest level of transparency regarding increased progress payment rates."
Among a list of questions, Warren said she wants to know the top five recipients of the increased funding; what measures are in place to ensure funds aren't spent on share buybacks, dividends, or executive salaries; how the Pentagon determined that additional funds were even needed; and what the timing is on winding down the policy.
Lord and other Pentagon officials have said it's their expectation that the additional funds will flow quickly to subcontractors and not be held to use for stock buybacks that increase the value of outstanding shares.
The procurement chief said she's taking a "trust but verify" approach to the issue. Last week she praised Lockheed Martin Corp. after the company "publicly committed to accelerating $450 million to their supply chain." On Friday the company said that's it's delivered over $365 million so far to "our distressed supply base."
Still, Warren wrote that she's "skeptical as to whether large defense contractors will share these extra funds with their smaller supply chain partners in a timely fashion, and whether the Department will hold these industry giants accountable if they fail to do so."
Warren cited statistics from her staff that between 2010 and 2018, the six largest defense contractors -- Lockheed Martin, Boeing Co., Raytheon Co., Northrop Grumman Corp, L3 Technologies and General Dynamics Corp. -- generated $158.5 billion of free cash flow and spent $163.9 billion in stock repurchases and dividend payments.
"Not a single dollar was used to 'invest' in the defense industrial workforce," Warren wrote. "All of this was accomplished when the progress payment rate was 80% for those large businesses."