Want Yellow Peas and Fake Milk? New-Age Traders are Seeking You Out
(Bloomberg) -- Yellow peas, fake milk and soybeans with differing colors, taste and consistency. These emerging foods and others are spurring a wave of new startups seeking to change how crops are sold in a world of rapidly shifting consumer tastes.
The big agricultural traders -- Archer-Daniels-Midland Co., Bunge Ltd., Cargill Inc. and Louis Dreyfus Co. -- built their dominance on millions of acres of yellow No. 2 corn and other standards. Startups like Indigo Ag Inc. and Grainster Inc. are betting their tight focus on the premiums paid for niche crops can entice farmers to their eBay-style digital platforms.
Want wheat grown from a specific seed, or with a certain protein level? Indigo Marketplace, which went public in September, can connect you to a farmer to provide it. Meanwhile, the growers get access to a variety of bidders.
"If all of this works, what will happen is it will create all kinds of interesting niches that don't exist today for specific types of feed or crops," said Indigo Chief Executive Officer David Perry. "It opens up the market for technology to improve quality or sustainability."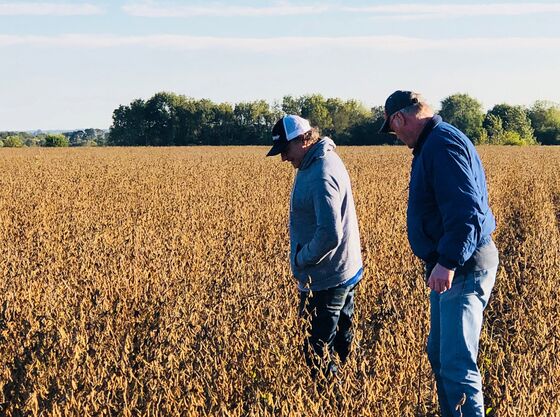 Millennials, in particular, are throwing their dollars toward food that they feel is both good for them, and for society in general. Traditional food companies are struggling to source ingredients with specific qualities that appeal to younger Americans. At the same time, farmers have faced years of declining income and are looking for ways to increase profits.
Agriculture is "making the change into the new economic era," according to Roger Cunningham, Grainster's CEO. The information and financial technologies available will "change every practice throughout the supply chain," he said.
To be sure, the emerging trend hasn't been lost on the biggest traders.
Bunge, for instance, acquired Minsa Corp. earlier this year to expand its offerings of organic and non-genetically modified organism corn flour, as well as "on-trend colors such as blue and red corn," the company said in January. Cargill offers an organic, non-GMO pea protein that's used in baking, snacks and beverages, according to April Nelson, a spokeswoman.
Meanwhile, ADM's specialty crops includes chickpeas, high-oleic soybeans and yellow peas, among others, according to spokeswoman Jackie Anderson. "We are able to leverage our large asset network to meet the specialty ingredient needs of our customers in an very efficient and cost-effective manner," she added.
The aisles lined with non-gmo, organic and products derived from the niche crops are now among the "most dynamic" spaces in grocery stores, said Lynn Clarkson, founder of Clarkson Grain Co. in Cerro Gordo, Illinois, which sells specialty crops, including blue corn used to make tortillas and chips.
Still, new companies believe their unique focus and inter-connectivity gives them an edge.
Boston-based Indigo's digital marketplace already has hundreds of different crops on its platform, when you count all the various types and specifications, Perry said. The company raised $650 million after its most recent round of funding.
Grainster anticipates its online marketplace will go live next year. Its Series A early-stage funding is in process, and the Little Rock, Arkansas-based startup is looking overseas for markets that U.S. farmers can grow custom crops for, according to Cunningham. They have already aggregated potential buyers in China, India, Brazil and Argentina, he said.
Other business models are also working to achieve what's being referred to in the industry as "decommoditization." Farmers Business Network Inc. is one.
The network, which shares data among farmers with 26 million acres in North America, hasn't established an eBay-style platform. Instead, it considers itself a farm supply chain for food companies, providing direct sourcing for traceable specialty crops. For instance, FBN farmers are now capturing premiums on the yellow peas that produce the protein used in Ripple Foods Inc.'s non-dairy products.
Consignment Opportunities
Seed companies are also embracing consignment opportunities. Palindromes, which contracts with farmers to sow its specialty seeds for customers in Asia and other countries, is trying to turn tofu into the next Angus beef for soybean farmers.
Some customers want a certain color, taste or consistency of soybeans that are turned into tofu, and they'll pay a premium for farmers that can meet their specific needs, said CEO Karla Klingner. "It's really about knowing your buyer," she said.
Other seed companies are looking at food as medicine, and using artificial intelligence normally used for drug discovery to develop foods with healthy effects, according to Rob Leclerc, chief executive officer of AgFunder, an online venture capital platform.
For farmers, premiums paid for growing consignment crops might be the incentive to focus not on quantity, which leads to commodity production, but on quality or method. This is already becoming a new normal, said Stephen Nicholson, a St. Louis-based senior grains and oilseeds analyst at Rabobank.
Still, cutting out the existing middlemen and creating new supply chains from scratch isn't going to be easy, according to Zach Luttrell, principal at consultancy StraightRow LLC in Memphis, Tennessee. Unlike online sellers such as eBay, they need to become expert at coordinating logistics, confirming quality and guaranteeing payment, complex processes that don't come easily, he said.
Additionally, premiums for rare crops don't always last, said Brennan Turner, the CEO of FarmLead, an online North American grain marketplace. He pointed to the example of Nexera canola, which produces the oil favored by McDonald's Corp. for its french fries.
Once farmers found out they could get paid a premium, they all flocked to grow the variety, he said, quickly erasing the premium.