Walmart's Strong Quarter Is Tempered by a Lack of Details
(Bloomberg) -- Walmart Inc. reported another solid quarter as consumers turned to the essential retailer for groceries, home goods and more. But it's what executives didn't say that left Wall Street uneasy.
The world's largest retailer wouldn't provide a full-year forecast and executives offered only generalities on its much-touted subscription service, Walmart+, despite repeated attempts from analysts on a conference call to get more. Walmart also said it's still struggling to stock key items such as bath tissue and cleaning supplies.
The issues marred an otherwise shining period, with third-quarter results topping expectations virtually across the board. Walmart's same-store sales, a key gauge of retail performance, climbed 6.4% in the U.S., excluding fuel, while analysts had expected a gain of 3.8%. Online sales surged, and the company's profit margin even increased despite pandemic-related costs.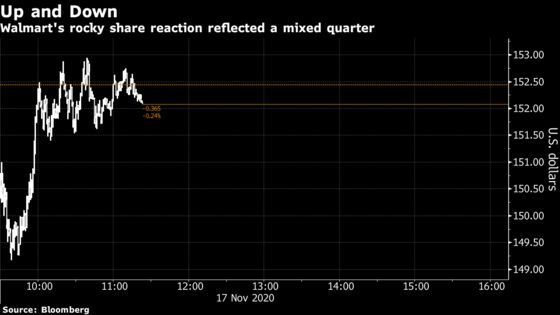 "We're excited about the results, but it's really early on," John Furner, head of Walmart U.S., said on the conference call on Monday. "We're still learning."
Walmart's mixed quarter was reflected in the stock, which bounced from negative to positive repeatedly throughout the morning. The shares faced added pressure from Amazon.com Inc., which said it would start selling prescription drugs. Walmart rose 28% this year through Monday, when it closed at a record high.
The results give investors little clarity heading into a crucial holiday shopping period, when retailers will try to balance heightened e-commerce demand with muted in-store shopping, and keep the supply chain running smoothly amid an unpredictable global health crisis.
Shoppers are still stocking up, eight months into the pandemic. While transactions fell 14% during the quarter ended Oct. 31 at Walmart's U.S. division, the average purchase surged 24% -- meaning customers are consistently buying more every time they place an order.
The retailer continued to expand its online presence, with e-commerce revenue growing 79% after the unit nearly doubled in the second quarter. The company has invested heavily in building out its web operations, including using its fleet of stores as a distribution hub.
"Customers are resilient, and they certainly continue to shop," Chief Financial Officer Brett Biggs said in an interview. With the company expanding operating hours and a delayed back-to-school shopping season gaining steam, "momentum really picked up through the quarter."
Sam's Club also reported sales that beat estimates as it pushes to lure more members with delivery, pickup and smaller serving sizes to appeal to those not planning large holiday gatherings this year. Sam's Club same-store sales growth of 11.1% surpassed expectations for a 7.1% gain, according to Consensus Metrix.
The robust sales gains coupled with a reduction in operating costs helped Walmart top profit estimates. Adjusted earnings were $1.34 a share, surpassing an average analyst estimate of $1.18. Covid-related costs fell by more than half to $600,000, largely from a one-time bonus for associates being accrued in the second quarter.
"Any announcement by Amazon often has a ripple effect," said Bloomberg Intelligence analyst Jennifer Bartashus. "Walmart has a big health and wellness business so it might be perceived as a bigger threat to that now."