Walmart's Rosy Forecast Not Enough to Meet Raised Expectations
(Bloomberg) -- Walmart Inc. planned to sail smoothly into the holiday season, but instead found choppy waters as dissatisfied investors sent its shares lower.
Sales growth slowed at the world's largest retailer in the third quarter, while profit margins continued to get squeezed by higher transportation costs and a greater proportion of revenue coming from its online unit, which is still in the red. The shares fell as much as 2.9 percent, the biggest intraday decline in six months, capping a week to forget for Walmart after an embarrassing executive departure on Tuesday.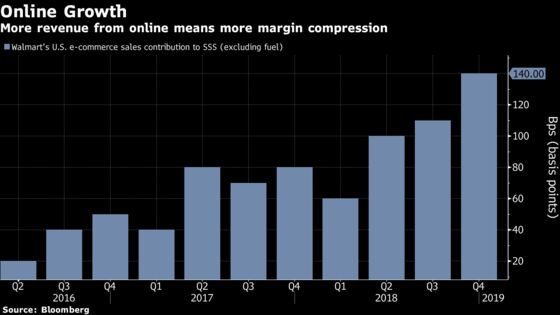 "Expectations were pretty high, and it's not a cheap stock at 22 times earnings, so there's this fear that we've seen the peak," Edward Jones analyst Brian Yarbrough said. "The stock's had a good run, so you are seeing a selloff."
Comparable sales for Walmart stores in the U.S. -- a key performance barometer -- rose 3.4 percent in the third quarter, beating analysts' estimates. But that represented a slowdown from the second quarter's breakneck 4.5 percent increase. Customer traffic in its stores slowed, forcing e-commerce to carry more of the load.
Walmart has attracted more customers online thanks to a website redesign, more delivery options and new products from Nike and other top brands.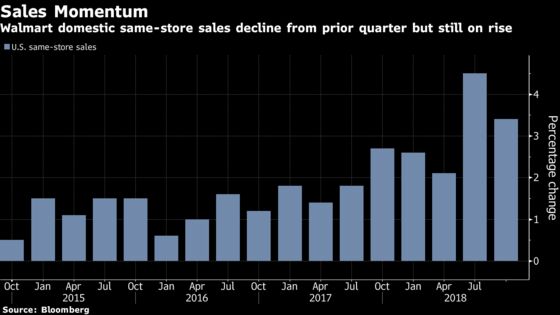 Still, Walmart is poised to be a big winner in what is shaping up to be the best Christmas shopping season in recent memory. Walmart's wide variety of products -- from toys to turkeys -- and low prices both in stores and online have positioned it to grab new sales as retailers like Toys "R" Us Inc. have faded from the scene. Walmart's position as the nation's top grocer has also provided a bulwark against Amazon, which is still figuring out its food strategy more than a year after acquiring Whole Foods Market.
"Walmart will be one of the pace-setters this holiday season," Moody's Corp. analyst Charlie O'Shea said in a note.
The share decline was the latest blow for Walmart this week, after the surprise resignation of Binny Bansal, co-founder and chief of its new Indian e-commerce subsidiary Flipkart. Bansal departed after an investigation into allegations of sexual misconduct, which Bansal has denied. The accusations emerged in July, just as Walmart was closing the $16 billion acquisition, its biggest-ever deal.
Binsal's resignation will place more scrutiny on Walmart's e-commerce unit, where losses have piled up as the company invests heavily to keep pace with Amazon.com Inc. Looking ahead, Walmart also needs to avoid the supply-chain snafus that its website suffered during last year's holiday season, which hampered online growth and worried investors.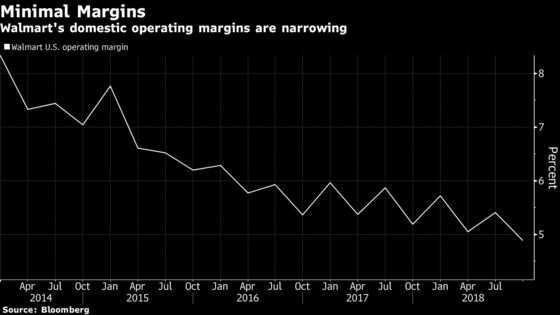 The retailer boosted its full-year adjusted earnings per share outlook to $4.75 to $4.85 from $4.65 to $4.80 earlier. Walmart now sees U.S. same-store sales growing at least 3 percent this year, better than the previous guidance of "about 3 percent."
Walmart shares were down 1.5 percent to $100.01 at 11:43 a.m. in New York. The stock had climbed 2.8 percent this year through Wednesday's close, beating the 1 percent gain in the S&P 500 Index.
"People realize it's as good as it's going to get, so why buy these stocks?" Chuck Grom, an analyst at Gordon Haskett Research Advisors, said by phone.