Walmart Sinks as Margins Show Pressure Amid Sales Boom
(Bloomberg) -- Walmart Inc. fell the most in almost nine months after the retail giant signaled that it's bracing for more pressure from global transportation snarls despite a broadly positive outlook. 
The company's costs are rising more quickly than its prices, Chief Executive Officer Doug McMillon said Tuesday after the company reported third-quarter earnings. Gross margin, a broad measure of profitability, fell slightly in the quarter, dragged down in part by higher supply-chain expenses. 
"The message from Walmart is that supply-chain pressures are coming, they're going to rear their head," Simeon Gutman, an analyst at Morgan Stanley, said in a Bloomberg TV interview. In a note to clients, he said Walmart's "margins were a little squishy and will be picked at," even as sales exceeded expectations and the company lifted its profit forecast.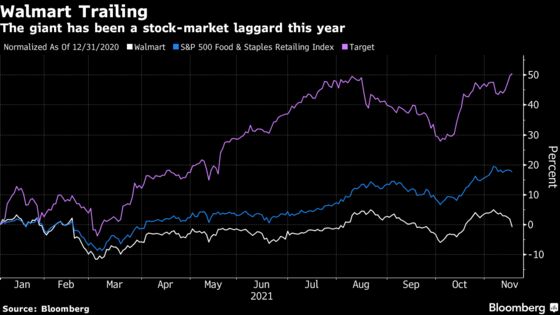 The mixed results point to the hurdles for Walmart in navigating scarce transportation capacity, a labor squeeze and rising fuel costs -- all of which are combining to spur the fastest growth in U.S. consumer prices in three decades. Still, McMillon said Walmart was gaining market share and expecting robust holiday sales. And he seemed to relish the challenge of limiting price increases. 
"Fighting inflation is in our DNA," he said, invoking the memory of company founder Sam Walton.
Catch up on the TOPLive blog about Walmart and Home Depot
The shares fell 2.5% to $143.17 in New York on Tuesday. That wiped out Walmart's gain on the year. 
"While earnings beat, the stock looks to be getting weighed down by continued inflation concerns," Edward Kelly, an analyst at Wells Fargo & Co., said in a report. Walmart "added some kindling by admitting that costs are rising faster than retail prices" and citing gasoline prices as a headwind.
Despite the challenges, which also include lingering coronavirus outbreaks, customers aren't shying away from in-store shopping. That's enabling Walmart to boost its market share, McMillon said. 
What Bloomberg Intelligence Says

"Walmart enters its most important quarter with strong momentum, which bodes well for the holidays. Inventory is around 11.5% higher than last year, signaling the company is well-prepared for seasonal sales. Meanwhile, firm demand and competitive prices could help Walmart sell through this inventory, reducing the need for post-holiday markdowns."

--Jennifer Bartashus, retail analyst

Click here to read the research.
Comparable sales excluding fuel in Walmart's U.S. stores will grow more than 6% this year, the company said. That was up from a prior forecast of as low as 5%. Walmart also raised its earnings guidance, forecasting $6.40 a share for the year compared with a previous prediction of no more than $6.35.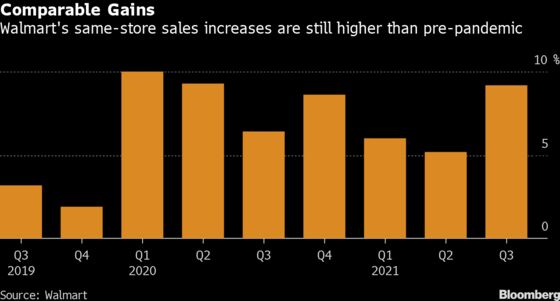 In the third quarter, comparable sales climbed 9.2% at Walmart's U.S. stores, the company said. That surpassed the 7% average of analyst estimates compiled by Bloomberg. Adjusted earnings of $1.45 a share also outpaced expectations, as did sales of $140.5 billion.  
Customers in the quarter shopped more and paid more for what they bought. Transactions rose 5.7% and average ticket climbed 3.3%, reflecting inflationary trends that are sweeping the consumer sector.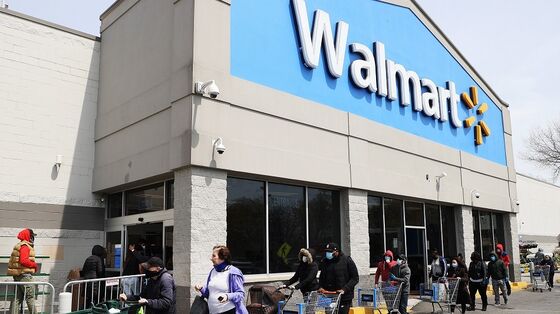 Looking ahead to next year, inflation may push more consumer spending to Walmart since the retailer is known for its everyday-low-price strategy, said Neil Saunders, managing director of GlobalData. 
"After two quarters of reasonable but somewhat staid growth, Walmart has posted a very healthy uptick in sales," Saunders said in a note. "As prices rise, more Americans turn to Walmart to help them save money."