'Anxious' Walmart Holders Bore In on Results 
(Bloomberg) -- Walmart Inc. investors stomached the surprise resignation of a key international executive this week, showing that they are focused less on day-to-day drama and more on quarterly results due Thursday.
The world's largest retailer said Tuesday that Binny Bansal, co-founder and chief executive officer of its new Indian e-commerce unit Flipkart, had resigned after an investigation into unverified allegations of sexual assault. The news was embarrassing for Walmart given the $16 billion bet the company has placed on that money-losing business, but shareholders largely shrugged it off, as the stock fell less than 1 percent on a day broader markets also declined.
The shares dropped 1 percent to $101.88 at 11:49 a.m. in New York on Wednesday. The three-day decline -- the most since July -- indicates there's some concern on Wall Street about the upcoming report.
"I would rather have not seen that news, but at the end of day, I'm anxious to see the next quarter and go from there," said Walter Todd, chief investment officer at Greenwood Capital, which holds Walmart shares. "Flipkart will take a while to pay off. What will drive the stock is the comp sales and traffic."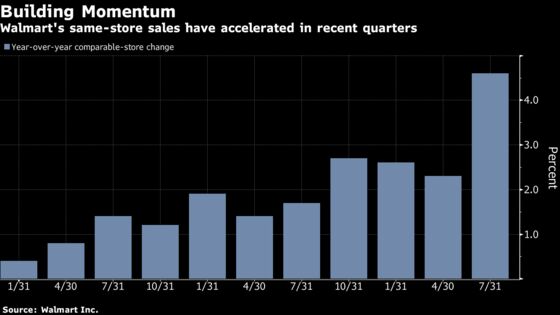 Those key metrics -- same-store sales and customer foot traffic -- have been robust lately. Last quarter, Walmart posted its best U.S. sales growth in more than a decade, fueled by its grocery business, which accounts for more than half of revenue in its home market. The retailer also boosted its full-year sales and adjusted profit forecasts, then gave a generally rosy outlook for the upcoming year at its annual investor day last month.