Wall Street VIPs Have Next Huge Crisis on the Mind: Taking Stock
(Bloomberg) -- Stocks are higher in most global markets in a follow-through from the action in Europe and the reduced jitters over Italy's budget plans.
S&P futures are up ~8 handles and the cash index is pointing to a positive day, which is something we've only seen twice in the past eight sessions. Europe's Stoxx 600 is at session highs, up half a percent, thanks to a rebound for the region's banks (Stoxx banks index was up as much as 1.8 percent at one point) -- and that's despite a weaker euro-zone retail sales print, a profit miss by Tesco (shares tumbled ~9%) and a lackluster debut for Aston Martin's IPO.
The two major developments to stay on top of in the U.S. are 1) the heavy selling in the retail space, and 2) the divergence between small cap stocks and large caps.
On the first point, we're on watch for aftershocks in the retailers after the SPDR S&P Retail ETF (XRT) ETF had its worst day in almost two years on gargantuan volume. The culprits were fallout from Amazon's minimum wage announcement, given concerns that traditional retailers may be forced to pay higher wages ahead of the holiday season, and the Stitch Fix horror show, where the shares of a hedge fund hotel that doubled in the past four months tanked ~35% after an extremely high bar for earnings wasn't met.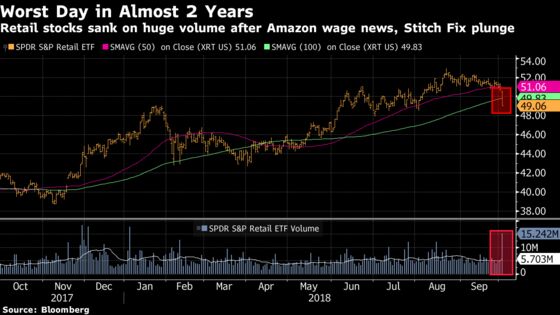 On the second point, there's been a clear disconnect between the large caps and the small caps, with the Dow hitting a record Tuesday while the Russell 2000 fell 1% and is now down more than 3% in the past week. The chart below shows that the split began in the beginning of September with the gap widening by the day.
Stitch Fix is one of those names that fits in two groups that are currently under the microscope, the first being those smidcaps that have come under pressure lately (SFIX closed on Tuesday with a market cap of under $3 billion) and the second being the momentum stocks. The latter isn't in the throes of a worrisome rollover like the Russell, but it's worth noting that the iShares Edge MSCI USA Momentum Factor ETF (MTUM) had its second-worst day in a month yesterday. Even more important is that Stitch Fix isn't a member of either the Russell 2000 or the MTUM, which tells you that the selling was more widespread and "real" than it otherwise could have been.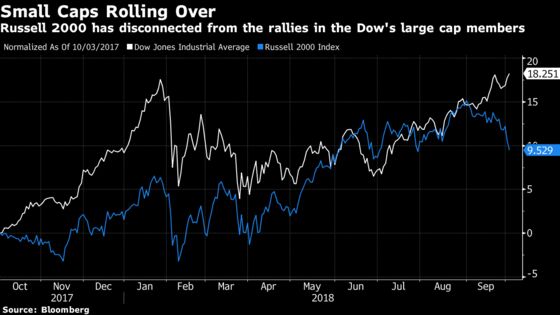 Other sectors to focus on today: Homebuilders after a Lennar beat (shares up ~3% pre-market) might squelch concerns from KB Home last week and jump start the down-in-the-dumps group, though commentary from the 11am call may be key; paint companies like Sherwin-Williams after RPM's earnings miss; mattress companies like Tempur Sealy (shares soared >8% last night) on Ebitda gains from a potential bankruptcy filing from Mattress Firm, as reported by Reuters; lighting-related stocks like Cree and Hubbell ahead of Acuity Brands earnings; the newer pot stocks, like India Globalization and New Age Beverages, are reeling after DavidsTea said it has no idea why its stock is going bananas; defense stocks on a new wrinkle related to payment regulations and the semis after another brutal call out of Morgan Stanley (more on both of these in the Notes from the Sell Side section).
The Next Financial Crisis
Now that the third quarter is over and the opportunity for window dressing has closed, we should expect to hear some interesting macro commentary from some of the most influential hedge fund managers in their quarterly investor letters.
But if the recent blurbs and think pieces from some of the biggest names in Wall Street are any indication, you may hear a lot less bull market cheering and a lot more glooming and dooming a la perennial contrarian Marc Faber.
The most recent to hit the newswires is billionaire investor Stan Druckenmiller, who in a Sept. 6 interview that was published last Friday talked about how the next financial crisis will be worse than the last because of soaring levels of debt: "We have this massive debt problem. We tripled down on what caused the crisis. And we tripled down on it globally."
This follows Oaktree Capital's Howard Marks's latest memo, published one week ago, that talked about how equities are in a similar position to that in 2005-06, from which they played little or no role in precipitating the crisis that came about two years later: "Instead of equities, the main building blocks for the Crisis of 2007-08 were sub-prime mortgage backed securities, other structured and levered investment products fashioned from debt, and derivatives, all examples of financial engineering. In other words, not securities and debt instruments themselves, but the uses to which they were put."
Marks continues: "This time around, it's mainly public and private debt that's the subject of highly increased popularity, the hunt by investors for return without commensurate risk, and the aggressive behavior described above. Thus it appears to be debt instruments that will be found at ground zero when things next go wrong." Perhaps Marks will expand on this when he appears on Bloomberg TV later this morning.
Others that have recently waved the caution flag include Citadel's Ken Griffin, who last week warned that a debt-fueled buying binge is laying the seeds for the next economic downturn. DoubleLine Capital's Jeffrey Gundlach said in June that the soaring budget deficit in the U.S. at a time of raising rates may be setting the stage for fiscal trouble.
Meanwhile, Bridgewater's Ray Dalio sees things playing out a bit differently from some of his peers. In a mid-September interview, he said the U.S. is two years out from a downturn, but "it'll be more of a dollar crisis than a debt crisis, and I think it'll be more of a political and social crisis," with greater internal conflict than in 2008.
I'll be curious to hear what the Einhorns (remember the "bubble basket"?) and Klarmans of the world, and any other hedge fund manager who has sounded alarms on the FAANGs, have to say about the current state of big tech, the bull market that's very much alive and kicking, and the odds of a financial crisis touching down in the next couple of years.
Notes From the Sell Side
Morgan Stanley is out cautious on the semis again in a note titled "Lowering Estimates for the First Time in Three Years" ahead of what they see as the start of an inventory correction. The analysts argue that a slowdown in autos and industrial will weigh on guidance for the fourth quarter. Price targets were cut for APH, ADI, TEL, MCHP, MXIM, NXPI, QRVO, and SWKS. Note that the SOX has yet to break above the level it traded at prior to Morgan Stanley's downgrade of the sector in early August.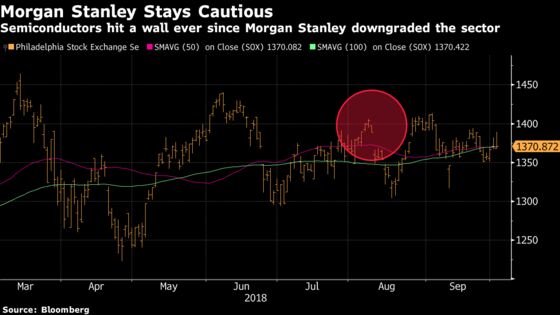 Bernstein's Douglas Harned expects a positive reaction for defense stocks after the Dept of Defense said it would rescind proposed changes to progress payment rules. The group had a mini-selloff a couple weeks ago on concerns over this payment shift, which was first flagged by this same analyst at Bernstein.
Goldman adds buy-rated Cigna to its conviction list and boosts the price target to $250 (or about 25 bucks above the Street average), noting that a combined Cigna-Express Scripts may reach its targeted leverage ratio earlier than expected.
Tick-by-Tick Guide to Today's Actionable Events
Today -- Sohn Tel Aviv with GAM, Fir Tree, Ionic Capital, Oasis Management, Hudson Bay Capital, Glazer Capital, Monarch Alternative, and Empyrean Capital
Today -- BA, EBAY CEOs at GeekWire Summit
7:00am -- MBA Mortgage Applications
8:05am -- Fed's Barkin speaks at economic conference
8:15am -- ADP Employment Change
8:30am -- Fed's Harker on Bloomberg TV
8:30am -- AYI earnings (roughly)
8:30am -- CRC analyst day
9:00am -- SCS, SNHY investor days
9:30am -- IPO Upwork (UPWK) to start trading after the open
9:45am -- Markit PMIs
10:00am -- ISM Non-Manufacturing
10:00am -- RPM earnings call
10:30am -- DoE oil inventories
11:00am -- LEN earnings call
11:30am -- Oaktree Capital's Howard Marks on Bloomberg TV
1:00pm -- CPST investor meeting
1:30pm -- HPQ analyst meeting
2:15pm -- Fed's Mester speaks at community banking conference
2:18pm -- FEMA to test "Presidential Alert" emergency text messaging system
3:00pm -- CP investor day (day one of two)
3:10pm -- BA CEO Dennis Muilenburg on Bloomberg TV
4:00pm -- Fed Chair Powell speech at Atlantic Festival
4:05pm -- RECN earnings
4:15pm -- PIR, SNX earnings
Tonight -- IPOs scheduled to price: Guardant Health (GH), Kodiak Sciences (KOD)