Wall Street Strategists Flip on Credit, Eyeing Value in Sell-Off
(Bloomberg) -- What a difference a few weeks make in U.S. credit markets.
Strategists at Morgan Stanley, Bank of America Corp. and JPMorgan Chase & Co. have all in the past days backpedaled on more bearish positions and are now suggesting clients add a touch of credit risk to their portfolios -- in the short-term at least.
"At the expense of understatement, the final weeks of 2018 represented a torrid time for global credit markets," JPMorgan strategists led by Stephen Dulake wrote in a note dated Jan. 4. "Combined with wider spreads today versus those when we originally put our year-ahead targets together in November, this generally makes for a better return profile across the corporate asset class."
Bank of America strategists Hans Mikkelsen, Yuri Seliger and Yunyi Zhang wrote on the same day that current valuations warrant a shift in their stance on U.S. high-grade debt to overweight from underweight.
Three days later, the team at Morgan Stanley released a credit outlook saying the change in sentiment in recent months means the short-term risk/reward "looks better than it has in some time."
The strategists are revising their credit recommendations following December's selloff, which pushed the investment-grade bond market to its worst year in a decade. Investors have been selling corporate debt amid concern that rising interest rates, global trade war tensions and slower growth could lead to downgrades to junk, which would raise borrowing costs for certain companies and could impair their ability to service debt.
In Bank of America's case, even though the allocation recommendation is new, the team led by Mikkelsen has been upbeat on fundamentals for the better part of the last year. The economy is still strong, companies have been issuing less debt overall and the last recession left them better prepared to weather the next downturn, Mikkelsen said.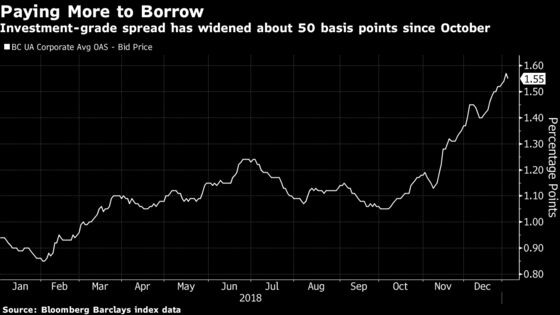 Here are the notable changes to the banks' forecasts.
Morgan Stanley strategists led by Adam Richmond said in their Jan. 7 note that they are reducing their underweight position on U.S. credit, recommending investors add "some credit risk tactically." However, the bank continues "to believe that credit is in a bear market, and that a long, slow turn in the credit cycle has begun," they said.
The market selloff and a "very sharp swing in sentiment" over the past few months led the strategists to change their stance as the "short-term risk/reward in U.S. credit has improved notably," the team wrote. Morgan Stanley also shifted its preference to high-yield bonds from loans.
Bank of America said current valuations warranted a shift in the firm's stance on investment-grade debt to overweight from underweight, pointing to "recession-type spreads in the 250bps range, a relatively modest recession probability and market weakness clearly having slowed the Fed's rate hiking cycle."
The bank's strategists remain bullish on credit fundamentals for 2019 driven by BBB rated debt, with technicals also becoming more favorable.
Data related to U.S. manufacturing sector "is trying to fool markets into pricing an impending recession -- just like in early 2016. We would advise markets not to be fooled twice," the BofA strategists wrote.
JPMorgan strategists boosted their 2019 U.S. high-yield bond return forecast to 8 percent from 3.3 percent in response to wider spreads and lower Treasury yields, offering an improved return profile.
But it's too soon to tell if the more attractive valuations are enough to attract buyers. "While this is better, it still doesn't stack up favorably versus the 2.5 percent return from holding cash and/or short-duration alternatives," the strategists wrote in their note.