Wall Street's Hottest Debt Is a Haven for Investors
(Bloomberg) -- Investors are finding shelter from Treasury volatility in two of Wall Street's hottest markets.
Returns on U.S. leveraged loans and collateralized loan obligations have outperformed other fixed-income asset classes, despite recent volatility and increasingly loud voices raising concerns about the rapid growth of these markets. Leveraged loans have returned 4.29 percent, according to S&P/LSTA Leveraged Loan index data, while top-rated CLO tranches have returned 2.1 percent this year, according to JPMorgan Chase & Co. data.
Floating-rate debt such as CLOs and leveraged loans have pulled in funds from investors as rates rise, and borrowers have responded with massive swathes of issuance in both markets. That's triggered central bankers in the U.S. and the U.K. to express fears about growing risks, with Bank of England Governor Mark Carney on Friday comparing the rapid growth of the leveraged-loan market with sub-prime lending in the run up to the financial crisis.
CLO sales so far this year total $107.7 billion, and may be on pace to meet 2014's supply record of $124 billion as JPMorgan projects $130 billion of new supply. New leveraged loan volume amounts to $272.7 billion, according to information compiled by Bloomberg.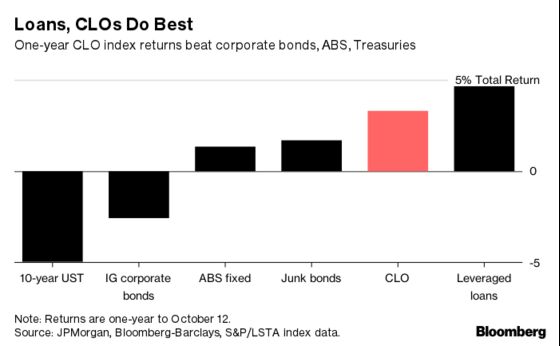 Investors are maybe more concerned with risks associated with higher interest rates, and so demand for floating-rate assets is expected to "remain white hot" over the next quarter and into 2019, supporting both loans and CLOs, JPMorgan analyst Peter Acciavatti wrote in an Oct. 11 note. "We estimate that in aggregate CLOs will provide $1 trillion demand for loans in 2018 and 2019 combined."
Adding to their appeal, CLOs have outperformed other fixed-income sectors each time 10-year Treasury yields have risen more than 17 basis points according to an analysis going back to 2012, said Rishad Ahluwalia, head of CLO research at JPMorgan, in a telephone interview. Adding a small allocation of CLOs to a portfolio may help returns amid rate volatility flare-ups, he said.
By comparison, returns on investment-grade U.S. corporate debt are negative 3.5 percent in 2018, according to Bloomberg Barclays index data.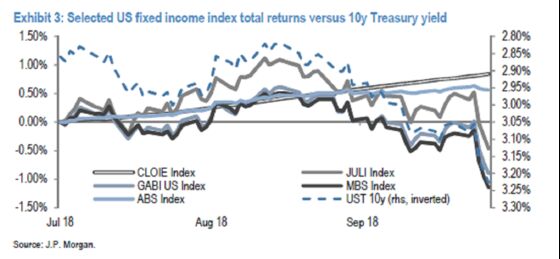 Many investors compare various asset classes based on ratings, despite different bond sectors having disparate risk properties and duration, especially on AAA debt, said Ahluwalia. "If you're a pension fund or insurance company in the U.S., you'd probably look at the holistic angle, and consider AAAs as a whole. Libor has risen year-over-year, so the absolute yield has gone up in CLO AAAs."
Floating-rate debt is typically priced off Libor, and the three-month rate is now at 2.49 percent, its highest since November 2008, according to data compiled by Bloomberg.
Further down the credit spectrum, CLOs are outperforming corporate high-yield bonds. Returns for BB-rated CLO bonds are 5.57 percent so far this year, and 8.74 percent for Single B-rated CLOs, compared to less than 2 percent for high-yield, according to JPMorgan bond indices.