Wall Street's Biggest Bond Trading Desks End 2019 With Roar
(Bloomberg) -- Investors expected Wall Street's biggest bond-trading desks to bounce back from 2018's disastrous end. The two top banks more than delivered.
JPMorgan Chase & Co.'s record performance in fixed income surpassed analysts' revenue estimates by a whopping $1 billion, while Citigroup Inc.'s debt traders posted a jump that was more than double what analysts were predicting. The surprise surge lifted fourth-quarter profit at both firms and helped them notch the best trading year since 2016.
"With volatility relatively low, especially toward the end of the period, we were not anticipating such a strong period for fixed-income trading revenue," Jim Shanahan, an analyst at Edward Jones, said in an interview. "It's a strong signaling effect here for the rest of the banks."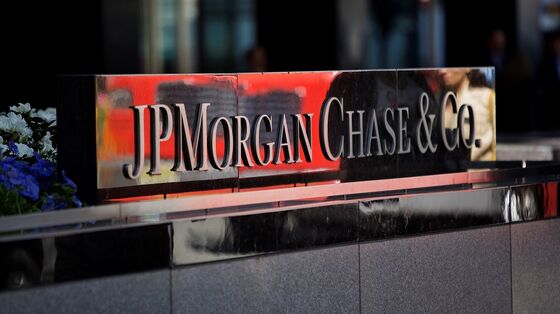 Wall Street's largest business has been in a years-long slump, leading some industry analysts to question whether it will ever bounce back and, if it does, whether humans or robots will be in control of the trading desks. Big banks like JPMorgan and Citigroup have been betting that the scale of their operations will help them take share from competitors as the industry shifts.
For JPMorgan, the trading performance pushed annual earnings to $36.4 billion, a record for any U.S. bank. Citigroup's trading windfall helped Chief Executive Officer Michael Corbat surpass a goal for return on tangible common equity of 12% in 2019.
At Citigroup, it also signaled a rebound from the middle of last year, when, after weak results, the bank set out to eliminate about 400 people in that division.
"The fourth quarter last year was a tough quarter for the industry," Citigroup Chief Financial Officer Mark Mason said on a conference call with journalists, referring to 2018. "And this year we saw recovery, particularly in our markets business on the fixed-income side."
That should spell good news for other major lenders such as Bank of America Corp. and Goldman Sachs Group Inc., which are set to report earnings Wednesday.
The gap between 1- and 10-year U.S. Treasury yields reached its steepest level in 18 months at the end of last year. It's a move that made interest-rate products particularly popular for JPMorgan and Citigroup.
JPMorgan CEO Jamie Dimon cited help from trade deals being reached in the quarter, giving investors more confidence to dive into the markets. The bank said it benefited from an active final few weeks of the year and gains in securitized products.
Citigroup said revenue from trading rates and currencies products surged 56% to $2.21 billion, while revenue from trading spread products and other fixed-income instruments jumped 28% to $684 million.
On a conference call with analysts on Tuesday, Citigroup executives reduced their guidance for 2020 return on tangible common equity to a range of 12% to 13%, with the bank expecting lower interest rates and contracting capital markets wallets to pressure revenue. The firm also vowed a further revamp of its equities unit, and said it expects a $1 billion pretax loss this year in its "corporate and other" unit.
Citigroup rose 2.3% at 2:33 p.m. in New York, while JPMorgan climbed 1.6%. Wells Fargo & Co., which missed profit estimates after reporting $1.5 billion of legal costs, fell 4.7%, the steepest decline in more than a year.