Wall Street Speeds Up Oil's Plunge
(Bloomberg) -- For the second time in a week, Wall Street banks accelerated an oil plunge as they covered exposure to producers' hedges.
Oil tumbled below $53 a barrel for the first time in a year on Tuesday, at one point slumping more than 7 percent in London and New York. The selloff -- just like the previous Tuesday -- was exacerbated by banks selling futures to rebalance their positions as prices fell, said people active in the market who are familiar with the matter.
As put options that private producers and sovereign entities such as Mexico bought from banks come close to paying off, the banks exposed to so-called "negative gamma" have to sell more and more contracts to avoid losses. A number of U.S. producers also looked to lock in gains from profitable 2019 production hedges placed earlier this year and last year, the people said.
The pain for the banks deepened as a big oil hedge contracted by Petroleo Brasileiro SA, the Brazilian state-controlled oil company, appeared to come into the money, according to market participants. The Brazilian company said in March it had locked in the price of 128 million barrels -- about 350,000 barrels a day -- at a price equivalent to $65 a barrel for Brent crude. Petrobras at the time didn't explain the structure of its hedge, but said the options expired at year-end.  
It's a far cry from seven weeks ago, when oil was hitting four-year highs and banks, merchant traders and consultants saw a chance of crude reaching $100 a barrel. The insurance that the banks sold producers to protect against a drop in prices had minimal chance of paying off.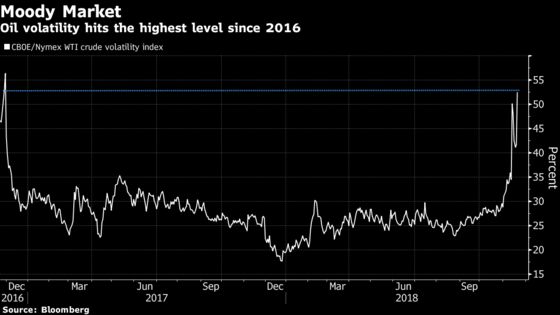 Now, investors are scrambling for cover, pushing implied volatility, a measure of how pricey options are, to the highest since 2016. Brent crude implied volatility for February contracts jumped to 50.4 percent Tuesday, from 36.3 percent, according to data compiled by Bloomberg. And the skew, or premium being paid for puts -- which protect against price drops -- over calls, jumped to almost 10 points.