Wall Street Buys Into Musk's Belief Tesla Can Make Money Again
(Bloomberg) -- Elon Musk has turned many on Wall Street into believers -- at least for the near term.
After getting caught off guard by Tesla Inc.'s third-quarter profit, analysts have lifted their estimates for the last three months of the year, and now expect the company to earn about $1.74 a share. That's up 62 percent in a day, and more than double what was expected a week ago, according to data compiled by Bloomberg.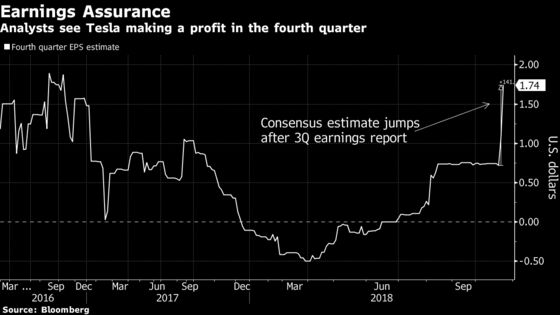 As recently as June, the consensus was that Tesla would break even or report a small fourth-quarter loss. But Musk has managed to find breakthroughs in producing more Model 3 sedans, and many of the company's deliveries have been versions costing more than $60,000.
There's still skepticism that Tesla is going to be able to sustain strong deliveries at those prices, and concern that bringing out cheaper versions of the Model 3 will pressure margins. But the results were still enough to get analysts thinking differently about the company's earnings potential.
"The Tesla narrative is starting to change as the company transitions to becoming sustainably profitable," Ben Kallo, an analyst at Robert W. Baird & Co. with a buy rating on the shares, said in a report. "Positive estimate revisions could be on the horizon."