Wait for Major Overhang to Pass, or Just Short Vol: Taking Stock
(Bloomberg) -- Volatility has appeared to have stalled ahead of tonight's midterm elections.
Monday's volumes for the consolidated tape were the lowest in two weeks and some of the weakest since the beginning of October. The 26-handle range on the S&P 500 was the tightest range in nearly a month and well below the ~50-point swings that we've become accustomed to (and futures this morning are down a relative smidge). Plus the VIX has made a clear move back toward ~20 after hovering around the 25 mark multiple times throughout the October sell-off.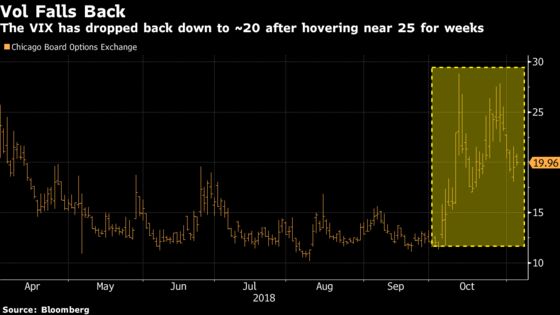 Today probably won't be any different unless something massive breaks on the trade war front, which is highly unlikely with Xi's speech out of the way, or polling starts to trickle out that might indicate some sort of shock to the system -- PredictIt has Dems taking the House and GOP keeping the Senate as the most likely scenario, currently trading at 64c. And even if the polls suggest a sweep for either party is looking more likely, who would even believe it given recent history?
Overhang Almost Removed
Some are expecting the market to spike one way or the other if the base case scenario of a split Congress doesn't play out. There's also a school of thought that says no matter what happens, stocks may rally once the results are finalized as the major overhang finally passes -- though that might just be theory being pushed by the long-only Illuminati who are coming off a brutal month.
But for today, I'd expect another session of anemic volumes, low liquidity and general meandering in the stock market with a dose of traders sitting on their hands and wondering why today isn't a holiday for the financial community.
I could see the tech fade continuing until the overhang of the midterms subsides; not that any weakness would be directly related to the elections, but rather it's more just status quo as the lingering weakness in the FAANGs and the semis doesn't appear to be letting up even with the rough month of October and Apple's disappointing earnings in the rear-view mirror.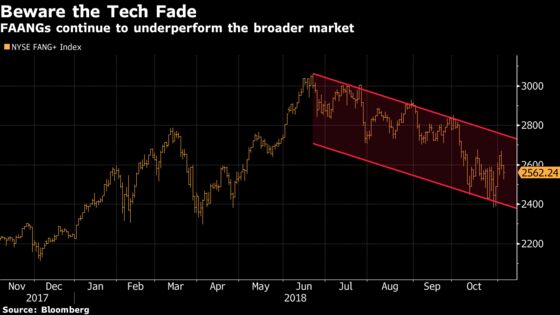 I'm sure there is still some positioning that could still be, and if any sectors are going to have a harsher reaction to the result than others, it'll likely be in pharma, banks, tech, and in energy, where many Colorado-exposed exploration and production companies (like Anadarko Petroleum, Noble Energy, and PDC Energy) are nervously awaiting what happens with Proposition 112.
We've published a slew of walk-up stories and market previews ahead of the event for your perusal: Click here for the sector blow-by-blow, here for the D.C. state of play, and here for the viewing guide).
REITs spanning New York (especially Long Island City) and northern Virginia, like Vornado and JBG Smith, with reports signaling that Amazon may split its HQ2 between the two locales
Online travel peers like Expedia and TripAdvisor after Booking Holdings climbs ~7% after a better-than-expected fourth-quarter EPS view
Pharma sector with strong prints out of Eli Lilly, climbing 3.5% pre-market, and Mylan surging ~10%
Drug distributors as AmerisourceBergen is indicated lower on a disappointing full year earnings view
Industrials after a weak earnings forecast from $44 billion market cap name Emerson Electric
Rental car companies like Hertz, which reports Thursday, may be weak after Avis results miss the mark
Heavy machinery peers like Terex after a beat from smallcap cranemaker Manitowoc
Hotel stocks with Marriott tumbling >5% after slashing North America and worldwide revpar forecasts
Jewelry companies after Denmark's Pandora A/S sank 12% at one point after cutting its outlook and abandoning a long-term sales goal
Sectors that may move with earnings over the next ~24 hours include Internet and e-commerce (Etsy, Zillow, GoDaddy, Match), software/cloud (Twilio, Tableau), cybersecurity (Rapid7), cable/satellite (Dish), apparel (Ralph Lauren, Michael Kors), packaged food (Dean Foods), auto parts (Delphi), managed care (Humana), and specialty chemicals (Ashland)
Notes From the Sell Side
Citi upgrades momentum poster child Square to a buy after its 24% tumble from its late September peak, and ahead of earnings Wednesday post-market. The analyst expects 3Q commentary on the health of the ecosystem, strong visibility into FY2019, and progress on the CFO search "will be positive towards restoring momentum in the stock."
UBS has a couple of interesting calls out in industrials land: 1) Despite recent investor concerns over GE, the bank's anlaysts have a hard time envisioning a liquidity event given ~$72 billion of cash sources available in the next six months; and 2) Cummins reiterated as a sell as the North America truck cycle "will start to roll over" in the next 6-9 months.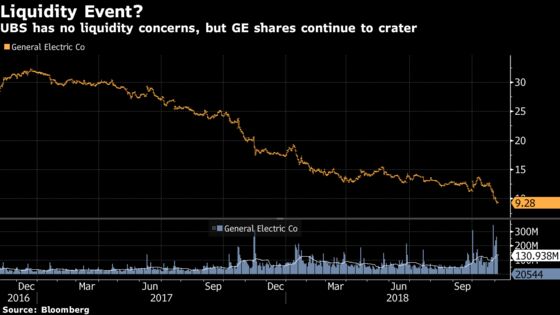 Bernstein downgrades big data software name Splunk to a market perform: "We've grown increasingly concerned that Splunk's strong reported revenue growth numbers in FY 2019 have been the result of increasing the duration on Term License contracts, which are now fully recognized up front. While the company will likely beat this underlying growth rate, we believe growth is decelerating."
And Barclays downgrades New York Times to an underweight with the stock up >50% year-to-date and just days after it hit a 52-week high: "Based on certain assumptions for print, we believe the digital business at present is being valued higher than SPOT despite digital revenue growth being a fraction of SPOT." Adds that the momentum in shares has taken valuation to levels that will need a "very different trend line for growth relative to the one the company is on."
Tick-by-Tick Guide to Today's Actionable Events
Today -- IPO lockup expiry: EQH
7:00am -- ADM, GOGO, BHC, HSIC earnings
7:25am -- TDG earnings
8:00am -- RL earnings
8:00am -- WFC at BofAML Future of Financials conference
8:30am -- BR, EXPD, LABL earnings
9:00am -- NOV analyst day
9:50am -- MS at BofAML Future of Financials conference
10:00am -- JOLTs job openings
10:00am -- FHN investor day
10:45am -- JPM at BofAML Future of Financials conference
11:40am -- C at BofAML Future of Financials conference
1:10pm -- FedEx CEO Fred Smith on Bloomberg TV
2:30pm -- EMR earnings call
4:05pm -- WEN, ETSY, DATA, RPD, GDDY, GLUU, HEAR, ZG, PLNT, JAZZ, DVN, PXD (roughly) earnings
4:06pm -- LC earnings
4:15pm -- TWLO, PZZA (roughly), DXC earnings
4:30pm -- API oil inventories
4:30pm -- MTCH earnings
5:00pm -- ASH earnings
5:00pm -- PZZA earnings call
Tonight -- Midterm election results