VW Sees Robust Year Despite Growing Economic Challenges
(Bloomberg) -- Volkswagen AG expects to boost revenue and maintain profitability this year even as the German manufacturer said it'll face more challenging economic conditions, costly new tests on emissions and tougher competition.
The world's biggest carmaker, reporting annual earnings that met expectations, repeated its 2018 goal for an adjusted operating return on sales of 6.5 percent to 7.5 percent for 2019. It also forecast revenues to rise by as much as 5 percent. The solid outlook mirrors Toyota Motor Corp., which earlier this month raised its goal for vehicle sales, while General Motors Co. also defied skeptics with an upbeat profit expectation.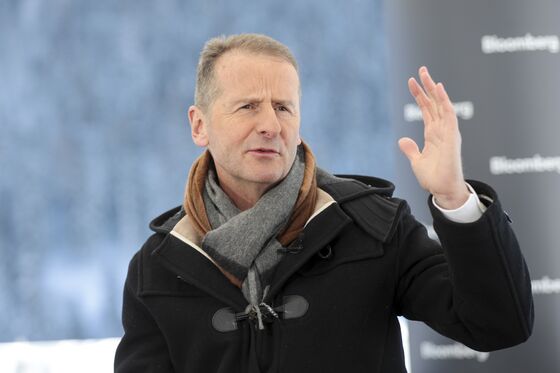 "We are heading into more difficult waters in the automotive industry and we want to overcome these kinds of situations," VW Chief Executive Officer Herbert Diess said in an interview with Bloomberg TV. "It helps if you're a little bit leaner, sleeker, more productive."
Carmakers are battling slowing markets and potential new tariffs on cars imported to the U.S. Among German carmakers, VW's two largest earnings contributors Porsche and Audi are most exposed should U.S. President Donald Trump impose a 25 percent tariff. In a worst-case scenario, VW could suffer a profit hit of as much as about 2.5 billion euros ($2.8 billion), Diess has said.
The company was committed to invest more in the U.S. and would do "all we can" to avoid import duties, he said.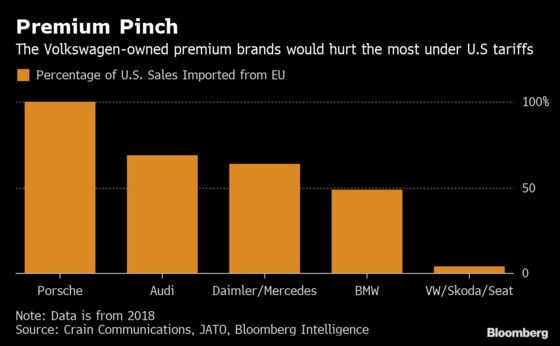 Volkswagen was flat at 146.50 euros at 5:06 p.m. in Frankfurt trading, following earlier gains of as much as 2 percent. The stock has declined 8.7 percent in the past year.
Diess, who's been at the helm of VW for almost a year, has pushed to accelerate efforts to rein in bloated costs and boost efficiency. The biggest building block of his strategy is a planned initial public offering of VW's heavy trucks unit, named Traton and valued at as much as 25 billion euros, according to Evercore ISI.
The IPO, which could happen as early as April, would help generate fresh funds for Traton's expansion outside Europe, where it lags behind global leaders Daimler AG and Volvo AB.
"The team is really making good progress," Diess said. "The ultimate decision will depend on the market situation."