VW Joins Auto Peers in Warning of Severe Hit From Pandemic
(Bloomberg) -- Volkswagen AG joined other automakers around the globe in warning of the unprecedented fallout from the coronavirus pandemic.
Supply and demand disruptions from government measures to slow the spread of the disease will cause operating profit to drop "severely" this year, the world's largest automaker said on Wednesday. Efforts to rein in spending will allow the German company to remain profitable for the full year, despite an anticipated second-quarter loss.
Volkswagen's warning pales in comparison to the announcement from Ford Motor Co. last night. The U.S. carmaker forecast a second-quarter operating loss of more than $5 billion, devastating its efforts to recover from three consecutive annual earnings declines.
The auto industry has been hit hard by the crisis, which forced factory stoppages and crippled sales in key markets from China to the U.S. Even as factories gradually begin to ramp up again, consumer behavior remains uncertain amid shaky confidence and concerns that restrictions could be tightened again in the event of a second wave of infections.
VW started to gradually revive output at its home factory in Wolfsburg, Germany on Monday, after resuming operations at a site Slovakia and its electric-car assembly in Zwickau, Germany, last week.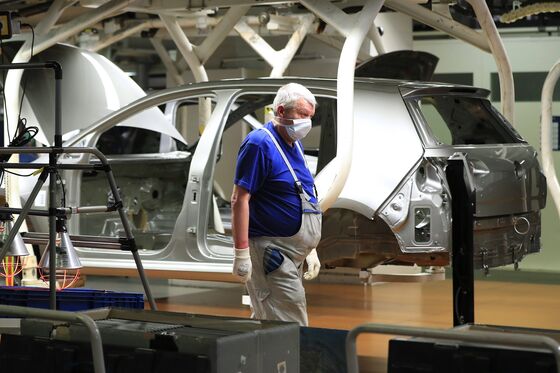 Production could halt again "in a few weeks" if demand doesn't pick up, works council head and supervisory board member Bernd Osterloh said in a letter to employees seen by Bloomberg. Order intake is "a tragedy" and industry needs efficient stimulus to "get back to life," he said.
Volkswagen is sticking to its cooperation plans with Ford, but decisions on strategic projects like planned takeover of Navistar International Corp. and building a new factory in Turkey remain on hold, Chief Financial Officer Frank Witter said on a conference call. Break-even in the U.S. won't be reached this year as planned, he added.
Daimler AG might need to "intensify efforts" to save costs in case of a prolonged downturn, Chief Executive Officer Ola Kallenius said on a conference call with analysts. The maker of Mercedes-Benz luxury cars said sales and operating profit slumped in the first quarter and reaffirmed that full-year earnings before interest and taxes will be below last year.
The Stuttgart-based automaker said it expects operating profit and cash flow to be negative in the second quarter when the full impact of the production stoppages can be felt.
After avoiding a Ford-style meltdown, shares in the German automakers rebounded. Volkswagen rose 2.2% as of 10:39 a.m. and Daimler was up 2.4%.
The disruption hits automakers at a sensitive time. Tighter emissions regulations are forcing a costly shift away from profitable conventional cars, but the electric-car era is struggling to get started.
Volkswagen warned that the crisis will lead to the "increasing intensity of competition" as well as volatile commodity and foreign exchange markets. Its rates of spending on research and capital expenditures will rise as sales decline.
The automaker's five-year plan to spend 60 billion euros ($65 billion) on electric-car technology and digitalization "may have to be reassessed as the industry deals with the fallout of the coronavirus," Bloomberg Intelligence analyst Michael Dean said in a report.
Volkswagen, which has been lobbying Germany to shore up car sales with incentives, expects significant drops in deliveries and sales this year. The company, which abandoned its earnings outlook earlier this month, initially targeted global vehicle deliveries on par with last year's level, revenue growth of as much as 4% and an operating profit margin between 6.5% and 7.5% excluding special items.
First-quarter operating profit slumped 81% to 900 million euros, in line with preliminary numbers published on April 16. Net liquidity stood at 17.8 billion euros after the first three months.
There are some signs of optimism. BYD Co., the Chinese electric-vehicle maker backed by Warren Buffett, predicted a rebound in profit as an easing in the coronavirus outbreak revives demand. First-half net income will rise as much as 24%, the company said in a statement late Tuesday. That's after first-quarter net income slumped 85% and sales shrank 35%.
While Daimler's recovery plan in China is a "role model" for other regions and the market there has shown signs of normalcy in April, it's prudent not to be too optimistic when it comes to an overall recovery, Daimler's Kallenius said.
"We are living through very unusual times," the CEO said.