VW CEO Puts Hopes for Porsche IPO on the Back Burner
(Bloomberg) -- Volkswagen AG Chief Executive Officer Herbert Diess appeared to pour cold water on plans for a possible listing of the Porsche sports-car brand. 
Europe's biggest carmaker listed the Traton SE trucks unit two years ago and plans to tap external funding for battery ventures, but isn't looking to divest other assets at this point in time, Diess said Thursday.
"We think we are well organized now in the premium sector, this is working for us quite well now," he said on a call with reporters. "We don't sell any of the other assets currently." 
Speculation around a potential listing of VW's key profit center has swirled for months, and the executive has previously tempered expectations for such a move. 
What Bloomberg Intelligence Says:

VW's CEO dampened hopes of a Porsche IPO during a 3Q-results press call, saying there are "currently" no plans to sell premium assets amid heightened speculation in the news. His comments added to negative sentiment toward in-line 3Q earnings, which were boosted by Audi's one-time commodity/FX hedge gains and guidance for 450,000 fewer 4Q deliveries due to semiconductor shortages, a situation that may ease in 2022. Our analysis suggests Porsche is worth 71-99 billion euros vs. VW's 122 billion-euro market cap.

-- Michael Dean, BU automotive analyst

Click here to read the research.
VW's key stakeholders are meeting next month to review the German industrial giant's rolling five-year investment plan that includes unprecedented expenses for new technology like electric and self-driving cars as well as an aggressive expansion of software operations.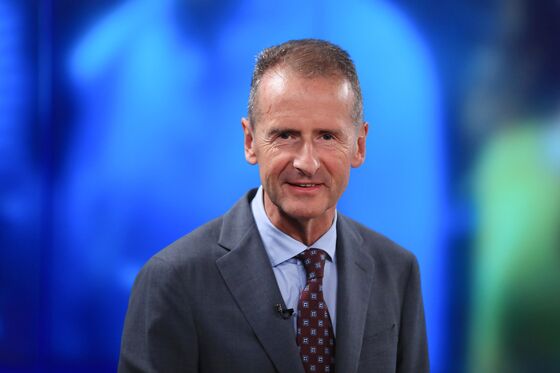 VW Chief Financial Officer Arno Antlitz said he was "quite confident" the investments can be financed from the group's own cash flow -- so long as the company hits cost-savings targets. 
VW is exploring options for a possible listing of Porsche, Bloomberg and other media reported in February. The maker of the 911 sports car is valued at as much as 99 billion euros ($115 billion), Bloomberg Intelligence estimates. That compares with VW's current market capitalization of 122 billion euros.