EU Agonizes Over Troop Deployment With Libyan Oil Flows Blocked
Commission President Ursula von der Leyen said the European Union must be prepared to back up its diplomacy with force as the bloc's foreign ministers discussed sending troops into Libya.
As von der Leyen made her first appearance at the World Economic Forum in Davos, Switzerland, since taking charge of the EU's executive arm, officials in Brussels were discussing how to ensure a tentative truce in Libya becomes a proper cease-fire.
"The European Union needs hard power but always together with diplomacy and crisis prevention," von der Leyen said Monday in Bloomberg Television interview in Davos. "Only that together is comprehensive security."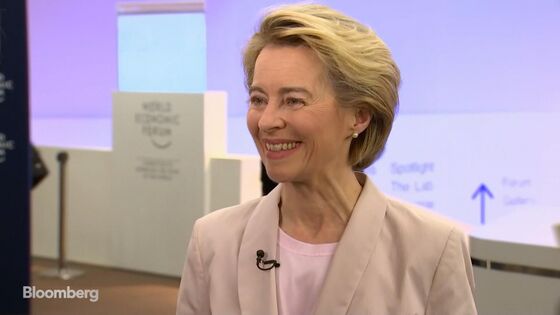 The challenge for the EU is not just how to bring stability back to a major oil producer in its backyard, but also how to regain its lost influence after Russia and Turkey put themselves in the driving seat by sending support to the warring parties. One option is for Europe to send its own military presence to Libya, but many nations are wary of getting caught up in the conflict.
The election of Donald Trump in the U.S. has brought added urgency to the EU's ongoing search for a formula that will allow it to punch its economic weight in foreign policy. With Trump withdrawing U.S. forces from areas like the Middle East, the EU has seen its regional rivals fill that vacuum and start to shape events in critical countries such as Libya and Syria.
German Chancellor Angela Merkel and France's Emmanuel Macron last year signed a bilateral agreement to lay the foundations for a European army -- with the EU, rather than national governments, in command. But the idea makes many EU members uncomfortable and remains a distant prospect.
Von der Leyen in Davos brushed off the question of a joint command and argued that what matters most is that the Europe's national forces use systems that can interact with each other in the field and that they consolidate their procurement policies to get more value from defense spending.
Merkel hosted peace talks on Libya in Berlin on Sunday at which leaders including Russia's Vladimir Putin and Recep Tayyip Erdogan agreed to work toward a more durable cease-fire in the North African nation. Yet, the talks also showed how global powers are struggling to find solutions to a conflict that's raged for years. Haftar has led a months-long assault on Tripoli, and fighting continued outside the capital over the weekend.
While no decisions were taken at the foreign ministers' meeting, EU foreign policy chief Josep Borrell said that there was consensus that preparations should begin for an expanded naval and air-patrol mission and a debate about deploying troops on the ground. Any troop deployment would only come after a full cease-fire was in place, he said.
One of the participants in Monday's meeting said the EU can't expect to be taken seriously if it can't commit forces to patrol its immediate neighborhood. The senior diplomat said the mission discussed on Monday would in essence be an expanded mandate and a new name for the so-called 'Operation Sophia,' which is currently in place without any ships.
"A cease-fire requires someone to take care of it. We cannot say this is a cease-fire and then forget about it," Borrell said as he arrived at the gathering in Brussels. "Arms control, embargo control -- there are several possibilities and the ministers will have to decide what to do in order to help implement the agreements of yesterday's conference."
Global oil prices jumped above $65 a barrel on Monday as the Libyan disruptions coincided with the shutdown of some oil output in Iraq, reigniting fears about the market's vulnerability to geopolitical risk in key supply regions. Libya holds Africa's largest proven oil reserves.