Von Der Leyen Says Brexit Transition May Not Happen by End 2020
(Bloomberg) -- The transition period for the U.K.'s departure from the European Union may need to be extended beyond the end of 2020, European Commission President Ursula von der Leyen said in an interview with Les Echos.
Prime Minister Boris Johnson is pushing for a long-term trade deal with the EU to be completed by the end of 2020. Von der Leyen said that's optimistic.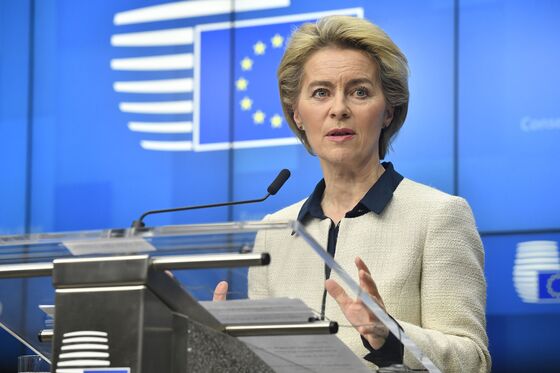 "I'm very worried about the little time that's left," she said in the interview with the French business daily. "It seems to me that, on both sides, we should seriously ask ourselves if all these negotiations are feasible in such a short amount of time."
Negotiators should assess where they stand at mid-year and, "if necessary, reach an agreement on an extension of the transition period," she said.
In a separate interview with Italy's la Repubblica newspaper published Friday, von der Leyen said that the EU will revise its antitrust rules to promote European competitors in certain "more globalized sectors."
"Small and mid-sized companies are the backbone of our economy, but it's true that in some sectors competition is reduced to a few global players," she said. "In all the other sectors, however, we will continue to analyze the European market to safeguard the interests of consumers."