Volvo Trucks Slumps After Warning on Faulty Emissions Part
(Bloomberg) -- Volvo AB shares tumbled after the world's second-largest truckmaker uncovered a faulty component in the emissions-control setup of vehicles widely sold in Europe and the U.S., the manufacturer's biggest markets.
The Gothenburg, Sweden-based company has started informing authorities about the issue, caused by a component degrading faster than expected and potentially leading to the release of emissions exceeding limits. The cost to fix the problem with the part, which comes from an outside supplier, "could be material," it said Tuesday in a statement. The stock fell by as much as 9.3 percent, the most in more than two years.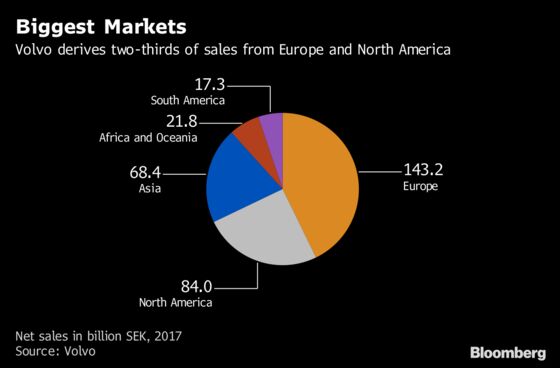 The news also dragged down shares in British catalyst supplier Johnson Matthey Plc by as much as 6.6 percent amid concerns it may have supplied the materials in the component. Both companies declined to comment about the maker of the component.
The revelation by Volvo comes against a backdrop of Volkswagen AG's emissions scandal that erupted in 2015, when the carmaker was caught using software to circumvent pollution controls. VW's Audi unit on Tuesday agreed to pay a fine of 800 million euros ($927 million) to settle a German probe, while PSA Group-owned Opel's offices were raided on Monday. Truckmakers like Volvo have so far escaped scrutiny, and in Volvo's case, it says a component made by another company is to blame.
While parallels may be drawn with the issues that have plagued carmakers, Kepler Cheuvreux analyst Mats Liss said Volvo's problems are based on the failure of a component and not willful tampering with software.
"It's hard to know exactly at which level of the supply chain this issue has occurred," Liss said. "It may take time to determine the responsibility and if a component from a supplier has failed the cost burden should be shared."
Most of the Volvo vehicles that were potentially affected were sold in North America and Europe, Volvo's two largest markets, which represented a combined two-thirds of deliveries last year. Volvo is still assessing the extent of the problem, spokesman Claes Eliasson said by phone. The failure showed up through the company's own diagnosis system, which throttles the engine when an issue occurs that could cause the truck to exceed emission limits.
Volvo has sold about 700,000 trucks in North America and Europe since 2014, when stricter emissions rules were implemented, and addressing the issue in all of them would be significant, according to Kepler's Liss.
"It's a lot of trucks, but it remains to be seen how many will need to be fixed," he said. "It's an uncertainty that needs to be taken into account."
While the company said the fault could potentially cause the release of excessive levels of harmful nitrogen oxide, its trucks have systems that should automatically prevent this. In the VW cheating scandal, the company used software to circumvent rules on nitrogen oxide. Daimler AG is the world's biggest truckmaker while VW is also a significant manufacturer.
Cummins Engine Fixes to Cost $404 Million, Drag on Through 2020
Volvo, whose biggest shareholder is Chinese billionaire Li Shufu, said it's not yet able to estimate the volume of engines or vehicles that may need to be fixed. Li, chairman of Zhejiang Geely Holding Group Co., also owns the separate Volvo Cars brand.
"There are many moving parts, around which little is understood at this point," and that's leading investors to make presumptions, according to Citigroup analyst Thomas Wrigglesworth.
For Johnson Matthey, he called the issue a "short-term negative" that should not detract from expectations of "significant earnings growth."
Volvo was trading 3.3 percent lower at 137.75 kronor as of 2:07 p.m. in Stockholm while Johnson Matthey was down 1.4 percent at 3,050 pence in London.
The cost of insuring Volvo debt rose following the news, and the company's 5-year senior credit default swaps widened 16 basis points to 86 basis points, the most since Jan. 20, 2016, according to data provider CMA.