Volvo Plans to Sell First Heavy-Duty Electric Trucks in 2021
(Bloomberg) -- Volvo Group has announced plans to sell electric versions of its heavy-duty trucks starting in Europe from 2021.
The range of the trucks could be up to 186 miles and volume production will begin in 2022, according to a statement by the Swedish truck-maker on Thursday.
"We're determined to continue driving our industry towards a sustainable future," said Roger Alm, President of Volvo Trucks.
Volvo is aiming for 35% of the trucks it sells to be zero-emission vehicles by the end of this decade, and expects to have phased out production of combustion-engine trucks running on fossil fuels by 2040.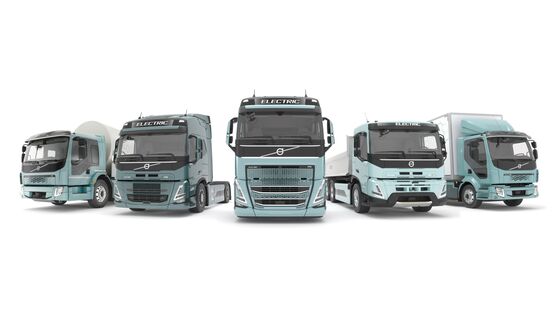 "We need to have a rolling fleet that is 100% fossil-free, globally, by 2050 at the latest," Chief Executive Martin Lundstedt said on a webcast Capital Markets Day. "The transformation and shift will happen segment by segment, market by market and region by region."
The development comes as truck-makers are racing to get zero-emission vehicles on the roads. In addition to traditional rivals such as Daimler AG, Traton SE's Scania and Paccar Inc., Volvo is also facing competition new entrants, including U.S.-based Nikola Motor Co. and China's BYD Co.
"We have had a positive view on how well positioned Volvo has been in this respect," Pareto analysts Magnus Behm and Anders Roslund said in a client note.
"Several indications of R&D ambitions and spending, development work and new product all have indicated that Volvo is ahead of its peers. In our opinion, the news today confirms this," the analysts said.
A major stumbling block to electrifying heavy-road vehicles is battery weight, which makes it hard to build trucks capable of hauling goods over long distances. The range of electric Volvo trucks that will go on sale from next year are designed for regional transport and urban construction, and the company hopes that a joint-venture with Daimler will allow it to offer long-haul vehicles later this decade.
As part of its transition to electrified vehicles, the company also announced plans to sell its first debut green bonds via a new financing framework.
The framework, which is classified as "Dark Green" by research firm CICERO, will also enable Volvo Financial Services to offer green loans to customers who buy electric products.
In recent weeks Volvo Car AB, Daimler and Volkswagen AG have locked in lower borrowing costs by tapping into the insatiable demand for green assets. Another Swedish truckmaker, Scania, said last month that it's planning to sell an inaugural green bond in its home market.
Read More: Truckmaker Scania Expects Cost-Savings From Debut Green Bond