Volvo Slumps as Chip Shortage Will Idle Truck Plants
(Bloomberg) -- Volvo Group declined after the truckmaker said it'll have to suspend production across its operations because of the shortage of semiconductors that's disrupted the car industry for months.
Output may come to a standstill for two to four weeks at the beginning of the second quarter after a chip-factory fire exacerbated supply issues. Volvo's factories in Europe are likely to be worst affected by the shortages, according to spokesman Claes Eliasson. Manufacturing of trucks and construction equipment in other parts of the world will also be impacted.
"It will take some time for us to get back on track," Eliasson said. "This is a typical issue that happens when the world restarts; you get this kind of disturbance for certain components, as well as strain on the freight industry."
The warning from Volvo comes as automakers across the globe are grappling with a shortage of chips that stemmed from booming demand for home and work gadgets during the pandemic. Renault SA has halted its Flins factory near Paris for the week and has had stoppages at a number of other plants in northern France, Spain, Morocco and Slovenia, according to a spokesman. Stellantis NV, Ford Motor Co. and Toyota Motor Corp. are among the manufacturers reporting more factories going offline.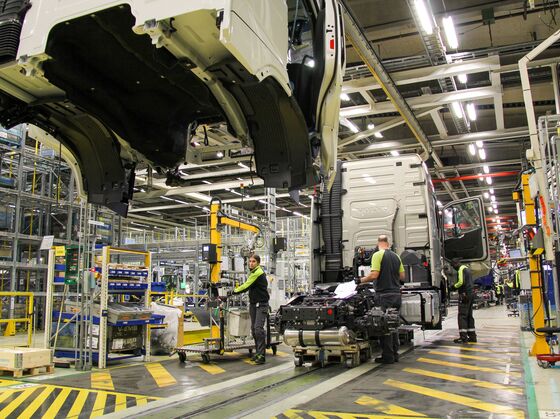 Last week's fire at Renesas Electronics Corp.'s automotive chip plant in Japan could cause more ripples for the industry. The crunch on chips was estimated earlier this year to cost global automakers about $61 billion in lost sales in 2021.
Volvo fell as much as 7.8%, the most in almost a year, and traded 7.6% lower at 216.50 Swedish kronor as of 11:38 a.m. in Stockholm.
While the production outage will have a negative impact on Volvo's earnings and cash flow, it isn't possible to quantify the effect, as visibility into the global supply chain is very low and "the situation is constantly changing," Eliasson said.
The company, which will report first-quarter earnings on April 22, was downgraded to hold by DNB and Danske Bank, as brokers tried to gauge the impact of the disturbances on Volvo as well as the wider automotive industry.
"Perhaps this is the canary in the coal mine and we could expect further profit warnings" among manufacturers, RBC Capital Markets analysts Tom Narayan said in a note. "We simply do not know at this point."