Volkswagen Shares Stall as Analysts Doubt Its EV Street Cred
Volkswagen AG's charge into the electric future may not be all it's cracked up to be.
Analysts are becoming increasingly negative on the prospects for VW, with Exane BNP Paribas on Wednesday cutting the stock to underperform, following a downgrade at Jefferies last week. "As new entrants and legacy players pile into the growing electric segment, we believe VW is finding the competition tougher than anticipated," analyst Dorothee Cresswell wrote, with a crowded market in China among concerns.
Europe's largest carmaker took the investment community by storm back in March, when shares soared on its plans to take Tesla Inc.'s crown in the EV market. Analysts were overwhelmingly positive about the German company's transition and it spent the next seven months without a single sell rating among analysts tracked by Bloomberg.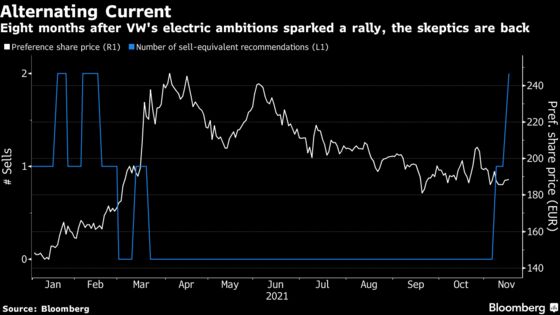 Since the middle of the year, the German giant's preference shares have been underperforming both local peers like BMW AG and electric rivals like Tesla. And this week, U.S. electric-truck startup Rivian Automotive Inc. -- which hasn't sold a single car and went public just last week -- surpassed VW's market capitalization.
VW shares fell as much as 1.8% on Wednesday, with the stock now down 24% from its April peak. "VW has long been keen to position itself as the sector's prime electrification play," Exane's Cresswell said. "Yet the evidence is beginning to look shaky."