VW Shares Gain as Truck IPO Plan Stages a Surprise Comeback
(Bloomberg) -- Volkswagen AG shares climbed the most in two weeks after the German automaker revived plans for a partial offering of its Traton SE heavy-trucks division and said it may dispose of two non-core businesses.
The decision to list the trucks unit came late Monday, just two months after the world's largest carmaker shelved the proposal, citing market conditions. While it didn't explain the about-face, VW said it hopes to list the business -- which sells Scania, MAN, and VW-branded heavy trucks -- by its August break.
"The most important point for us is that we've made the decision to IPO now," Volkswagen trucks head Andreas Renschler said in an interview with Bloomberg Television on Tuesday. "Of course there are uncertainties in the market but they will be always there. Now we can go further and develop our strategy."
The company also plans to look for a sale, joint venture or partnership for its MAN Energy Solutions and Renk AG divisions, while moving forward with a program to manufacture batteries for electric cars.
A share sale of the trucks unit would likely be the biggest IPO in Europe this year. Its total valuation could be as high as 25 billion euros ($28 billion), Bloomberg Intelligence estimates. The proceeds will help fund an expansion of the business outside of Europe, Renschler said. The deal will also give a boost to Chief Executive Officer Herbert Diess's revamp -- a plan left in doubt with the decision in March to pull back from the offering.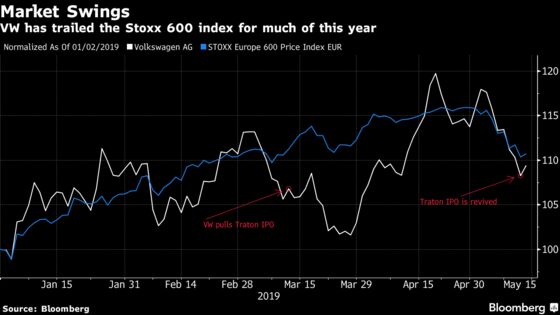 "We still have to contend today with cumbersome structures, complex processes and high costs in some areas," Diess said in speech notes at the annual meeting. "We still have great potential for improvement when it comes to lean administration and efficient production."
Diess and his team are trying to decentralize the German industrial giant, make it more agile and boost efficiency. The sale is seen as litmus test for his ability to reshape a 12-brand global behemoth and unlock hidden value.
VW said separately on Monday it plans to invest almost 1 billion euros to produce battery cells at a German site in Salzgitter, near it headquarters in Wolfsburg. The company plans to add 700 jobs there, and said it'll need vast quantities of batteries as it embarks on a 30 billion-euro push into electric cars, the industry's most ambitious, with 70 electric models planned by 2028.
The company also confirmed it will progress with plans to sound out options for an additional factory in Eastern Europe. The move had sparked resistance from VW's influential German unions after Diess floated plans for deeper cutbacks at the German workforce than previously agreed upon.
VW's powerful labor leader Bernd Osterloh expects an agreement on the further overhaul of the company's German workforce to be reached later this month, according to an internal memo to staff seen by Bloomberg.
The IPO, in the works for more than two years, is part of a strategy overhaul through 2025. Traton, which is focused on Europe, seeks to challenge global leaders Daimler AG and Volvo AB in other markets, including the U.S., where it could potentially boost VW's stake in peer Navistar International Corp.
"We are following our global champion strategy and this is the major outcome of our IPO," Renschler said. He said VW is happy with the Navistar partnership and doesn't have any current plan to raise its 17 percent stake.
Shares of Navistar gained 3 percent in U.S. trading on Monday. VW was up 1 percent to 149.06 euros at 10:46 a.m. Tuesday in Frankfurt, after earlier rising 2.9 percent.
European IPOs have been something of a rarity this year. Just 42 have priced on European exchanges in 2019, less than half as many as at this stage of 2018, according to data compiled by Bloomberg. VW's decision comes as equity markets in Europe and the U.S. fell Monday after China retaliated to American tariffs with its own set of increased trade duties.
What Bloomberg Intelligence Says

The trucks IPO "is a positive and could kick-start a bolder corporate restructuring strategy to include a future Porsche IPO"
--Michael Dean, analyst
Click here to view the piece
MAN Energy sells large engines used in ships and factories. The unit, which has 14,000 employees worldwide, recently changed its name from MAN Diesel & Turbo to highlight its sustainability offerings. Renk makes transmissions and industrial gearing products and has 2,200 workers, with production focused in Europe.
VW's previous efforts to sell minor units have struggled so far, with key stakeholders shooting down a plan to sell the Ducati motorcycle brand.