Vodafone Jumps as New CEO Read Signals Dividend Is Safe
(Bloomberg) -- Vodafone Group Plc shares jumped 7.1 percent after the mobile phone company's new chief executive unveiled stronger than expected results in a fiercely competitive market and kept the dividend stable while he tries to rein in debt.
Investors were already bracing for CEO Nick Read to end Vodafone's policy of constant dividend growth after the $22 billion takeover over Liberty Global Plc's German and Eastern European businesses stretched leverage at the world's second-biggest mobile operator.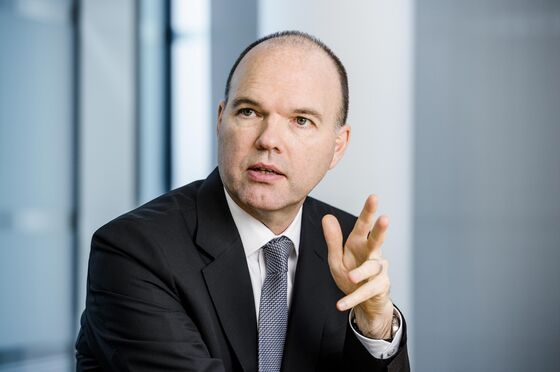 Newbury, England-based Vodafone, once a challenger to cumbersome former telecom monopolies, is now trying to fend off new low-cost mobile competitors while gearing up for a burst of spending to handle demand for faster networks.
Read said the dividend would be unchanged this year but said the board would consider higher payouts once debt returns to the lower end of a target range. Analysts at New Street Research said Vodafone would still boast a dividend yield of 9.2 percent, which was "too high to ignore."
"Given expectations had been low, all of this is clearly positive, but the underlying trends for Vodafone still remain challenging, especially in Spain, Italy and South Africa," New Street said in a research note.
Read, previously the company's chief financial officer who succeeded Vittorio Colao in October, is under pressure to chart a vision that can revive Vodafone's flagging stock, which has been trading at its lowest since 2009.
Vodafone shares were up 7.1 percent at 1.55 pounds at 9:50 a.m. in London. They were down 39 percent year-to-date ahead of the market open, compared to a 7 percent decline in the FTSE 100 index and a 13 percent decline in the STOXX Europe 600 Telecommunications Index.
Vodafone's organic service revenue grew more than expected in the third quarter after a solid performance in the U.K. and Germany offset tough competition in Italy and Spain. The company raised a full-year cash flow forecast as it takes a knife to costs and said full-year earnings would be in the middle of a previous forecast range.
Read laid out first priorities that included delivering more consistent results and getting more out of Vodafone's infrastructure. He said he was forming a company to house its 58,000 telecom towers in Europe to cut operating costs and was considering the best strategic options for its tower assets.
"We'll explore all options," Read said on a call on Tuesday, saying the towers were the first step to improving the way Vodafone uses its assets to improve shareholder returns.