Visa Brazil Vows to Reclaim No. 1 Crown Lost to Mastercard
(Bloomberg) -- Fernando Teles, the "Game of Thrones" aficionado running Visa Inc.'s business in Brazil, says he can reclaim the leadership crown lost to Mastercard Inc. in 2016.
"We were growing less than the market average, but now we've been able to stabilize that -- we're back on track," Teles, who took over as country manager of the Brazilian unit two years ago, said in an interview at the company's Sao Paulo offices.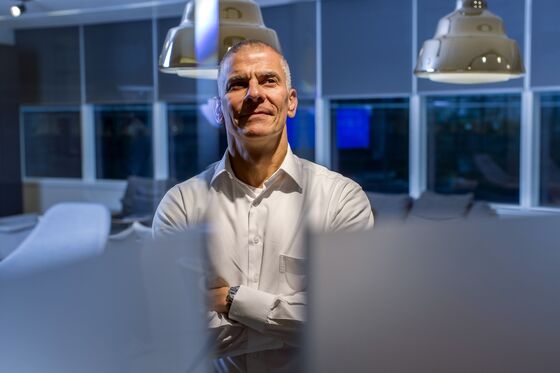 Teles, who collects miniatures and other memorabilia from the HBO fantasy epic about warring families and fire-breathing dragons, is fighting to reverse his company's years-long slide. The world's largest payments network, responsible for about half of all card transactions in Brazil in 2010, ended last year with a 36 percent market share, according to the most recent data available from the nation's central bank.
The main culprit? A card network named Elo that was launched by local banks in 2011 to cut costs. The newcomer, backed by the banks who used to be Visa's main partners in the nation, gained ground particularly in debit cards and ended last year with about 14 percent of all transactions in Brazil. Mastercard was No. 1, with 46 percent.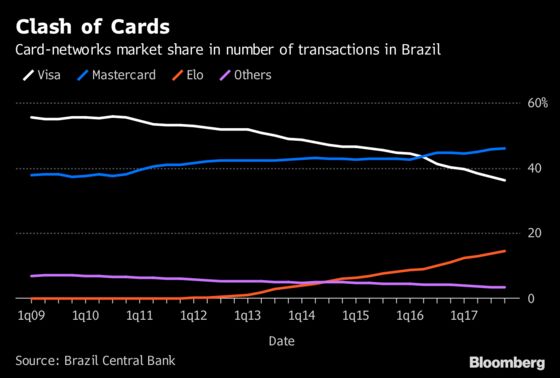 That's what Teles, a Itau Unibanco Holding SA veteran who was also CEO at digital lender Banco Original, is trying to reverse.
Since taking over, he expanded headcount in the Brazil unit by 25 percent, to around 160 people. Teles reviewed the company's business model, and is trying to strengthen relationships with local banks -- by bankrolling some joint-marketing initiatives, for example -- while finding new services to sell them. He also forged closer ties to the nation's growing fintech industry, by creating an area dedicated to them, and to retailers, which are getting a chunk of Visa's marketing budget.
"The first step was recognizing we had a problem, so we started doing more business with our clients, we changed the logic of the relationship," Teles said, adding that he's pushing for the company to regain the top spot in Brazil in three to five years.
Recent actions include taking some of Itau's high-income customers to watch next year's Super Bowl, helping Banco Bradesco SA launch a credit card for ultra-high-net-worth individuals and partnering with a smaller, retail-focused local network that will now offer Visa's cards.
The plan to get the leadership spot back also involves getting more Brazilians to shift their payments to digital, as 60 percent of transactions in the nation are made using cash, Teles said. That's an agenda shared by the central bank, which is stepping up regulatory changes to try to widen electronic-payments acceptance in Brazil -- including putting a cap on the fees paid for debit cards.
The new rule, which went into effect this month, limits the average interchange rate card acquirers pay to issuers to 0.5 percent of the transaction, from an average of 0.82 percent last year.
"I think regulating prices is not the way, the market should dictate prices," Teles said. He declined to give an estimate on the impact the change may bring to payments markets, but said it can be offset by growing transaction volumes and increasing the amount of services sold to clients.
Brazil's 1 trillion-real card industry has been changing at a fast pace over the past decade, as rules that created market barriers for new participants were overturned by the central bank. That led Banco Bradesco SA, Banco do Brasil SA and Caixa Economica Federal to create the new Elo network and pushed Itau to sign a joint-venture agreement with Mastercard in 2016, with an eye toward possibly creating a new card network, another worrisome move for Visa.
"Visa is reacting," Teles said. "We needed to revive the company's pride, it's ability to innovate," he said.
Fire-breathing dragons aren't yet part of the plan.