Virus Warnings Help Knock $300 Billion Off Europe Stocks
European stocks are nearing a correction and Thursday's slew of negative company news is partly to blame as investors fret over the impact on businesses of the coronavirus.
A spate of warnings ranging from largecap brewer Anheuser-Busch InBev NV and advertising giant WPP Plc to U.K. smallcap Topps Tiles Plc contributed to market declines. A hugely discounted rights offering by sports-car maker Aston Martin Lagonda Global Holdings Plc and disappointment over a divestment by G4S Plc only added to the grim sentiment.
Europe's benchmark Stoxx 600 Index fell as much as 2.6% on Thursday, wiping about 280 billion euros ($306 billion) off the value of the gauge.
It wasn't all doom-and-gloom, with French retailer Carrefour SA rising on increased cost-saving and divestment targets and Drax Group Plc gaining on a plan to exit coal completely. Still, only 28 of the companies in the Stoxx 600 were trading higher as of 11:20 a.m. in London.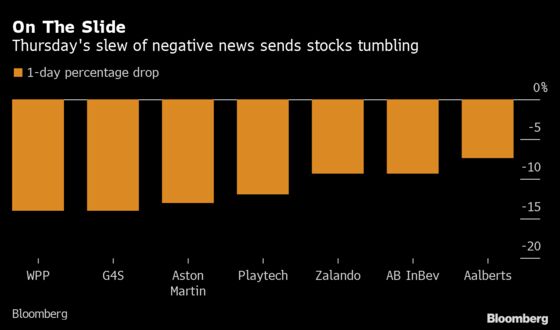 Here's a list of companies whose announcements are spooking investors.
The company said it expects a fourth year with no sales growth, missing analyst estimates and in contrast with more upbeat comments from rivals such as Omnicom Group Inc. A Berenberg analyst said there could be further downside to WPP's outlook given it was issued pre-coronavirus.
The company agreed to sell most of its cash-handling operations to Brink's Co. for $860 million, a price that RBC described as "slightly disappointing." The broker noted that while the sale will help G4S's debt position, it is "not clean" given the company will keep parts of the unit.
The embattled luxury car-maker said a long-awaited rights issue would price 47% below Wednesday's closing level. Analysts at Citigroup said the discount was deeper than expected, while adding that the company's earnings guidance for 2020 was "loose" as no total volume guidance was given.
The gaming company said its 2020 results are likely to be below market expectations, citing headwinds including "changes in normal customer patterns" due to the coronavirus. Shore Capital cut its rating to hold from buy, noting weakening trading conditions in Asia and changes in Italian customer behavior.
Anheuser-Busch InBev (down 9.2%)
The Budweiser brewer forecast the steepest decline in quarterly profit in at least a decade due to the coronavirus. The figures suggest that, in China, the illness is halving the company's revenue, according to Bryan Garnier analysts.
The German online retailer's profit outlook fell short of some expectations, even without considering any potential impact from the coronavirus. CFO David Schroeder told Bloomberg TV that the company is preparing for all scenarios related to the epidemic.
The maker of fittings used in taps and heaters posted full-year earnings which ING called "slightly weaker than expected." Organic sales growth of 1.1% compared with ING's 1.4% estimate.
The aviation services business warned the coronavirus has impacted operations in Macau and other regions where it works with Chinese carriers. Peel Hunt analysts said the short-term headwind is disappointing, but the firm remains well positioned to exploit sizeable growth opportunities.
Standard Chartered (down 3.5%)
The lender said fourth-quarter revenue was hit by the virus outbreak. The illness, along with an ongoing recession in Hong Kong, will see the bank hit some profit targets later than expected. The comments were "understandably cautious," Shore Capital analysts wrote.