Virus to Delay Steel Demand Recovery in 2nd-Biggest Producer
(Bloomberg) -- The coronavirus outbreak is likely to deepen a slump in India's steel demand, which has already taken a beating as the country heads for the slowest economic growth in more than a decade.
Consumption is set to take a hit in the March quarter, when demand typically peaks, as the virus leads to lockdowns and potential delays in new construction and purchases of pricier goods such as cars and houses, Vishal Kulkarni, Hong Kong-based executive director at Nomura Holdings Inc., said. That's likely to increase inventories at mills, he said.
"Demand will likely slow down for about a quarter, but going into late May and June we could see activities coming back to relatively normal levels," Kulkarni said in an interview. "We could, however, see steel producers taking this weak demand part as an opportunity to conduct unplanned maintenance."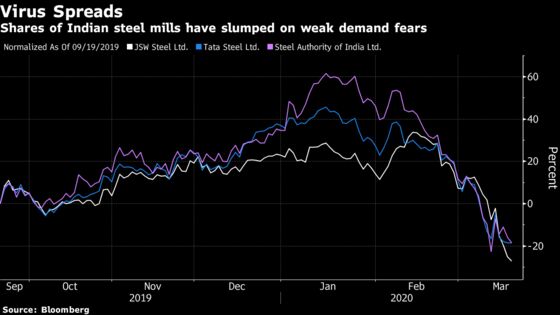 Domestic steel consumption grew by just 3.8% in the 11 months through February after growing 7.4% in the corresponding period last year, according to data from the steel ministry. Prime Minister Narendra Modi's administration is under pressure to shield the $2.7 trillion economy from the impact of the virus as it heads for the slowest growth since 2009. The federal government has asked states to enforce work-from-home for all private sector employees except those in emergency and essential services, the state-run Press Information Bureau said in a statement.
The large workforce at key steel plants makes them susceptible to an outbreak, Vishal Chandak, an analyst at Emkay Global Financial Services, said in a March 18 report. While companies have taken precautionary measures, "given the fact that thousands of people do work together in such places, we are fearful of any outbreak of Covid-19, which can have severe repercussions," he said.
State-run Steel Authority of India Ltd. has put in place contingency plans for manning all critical operations at its plants and offices and taken various preventive measures, including restricting travel for its employees, the mill said in a statement, without elaborating on whether output has been impacted.
India Could be Next Virus Hotspot With an 'Avalanche' of Cases
Emkay remains cautious on the sector as it expects margins to contract, production to decline and leverage to remain high or increase in the year starting April.
"Small players will certainly be affected most as weak prices coincide with rising inventory while banks' ability to fund has been constrained," Kulkarni said, adding both Tata Steel Ltd. and JSW Steel Ltd. will be able to weather the downturn.
Shares of Tata Steel and JSW both rose more than 8% in Mumbai on Friday, paring losses of over 35% this year. The benchmark S&P BSE Sensex was as much as 7.5% higher after losing nearly 30% in 2020. A bear case scenario analysis by Citigroup Inc. analysts including Raashi Chopra suggests that the companies could fall another 15%.