Virus Revives Beaten-Down CFD Firms as Britons Bet on Markets
For a group of firms selling risky derivatives to retail investors in Britain and beyond, the coronavirus has meant good business.
CMC Markets Plc reported client-trading activity in March was more than double that of "more normalized market conditions," and expects full-year profit to beat expectations, according to a statement Friday. Rivals IG Group Holdings Plc and Plus500 Ltd. have both reported similar surges in revenue this week.
The companies, all listed on the London stock market, deal in contracts for difference, or CFDs -- derivatives largely banned in the U.S. that traders use to wager on stocks, bonds and commodities, often with borrowed funds that juice the size of their bets. The firms' revenue has been constrained in recent years as regulators across Europe criticize their products as inappropriate for inexperienced investors, while clamping down on what they can do.
The chaos triggered by the spreading coronavirus has prompted a trading surge among CFD customers as they attempt to profit from some of the most volatile markets on record. While shares in the firms are down so far this year, they're outperforming European and U.S. banks.
"At times like these it is not just about our financial performance, which is clearly very good, but it is about protecting the business, our clients and our staff," CMC Chief Executive Officer Peter Cruddas said in the statement. "We are operating very well and there are no major commercial or technology issues that concern me."
Shares in CMC soared 17% to 158 pence at 9:44 a.m. in London trading, the most since it went public in 2016. The stock is down 8% for the year so far, compared with a 41% slump for the Bloomberg Europe 500 Banks and Financial Services Index.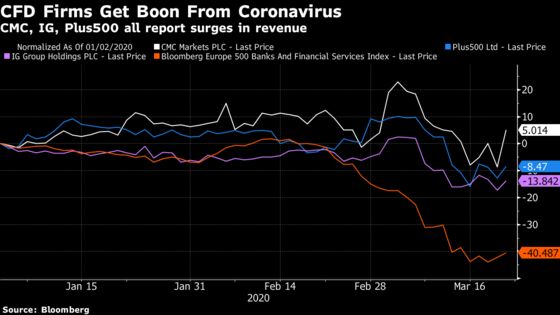 Stuart Duncan, an analyst at Peel Hunt, said CMC is able to operate "indefinitely" from recovery sites and with staff working from home. The company is a "clear beneficiary" in times of volatility and uncertainty, he wrote.
IG's revenue for the quarter ended Feb. 29 surged 29% from a year earlier to 139.8 million pounds ($164.5 million). That was the strongest period since the European Securities and Markets Authority imposed restrictions on CFDs in August 2018, according to the London-based firm.
Plus500, based in Haifa, Israel, reported a "significantly increased level of customer trading activity" on March 16 and said it expects "revenue and profitability to be substantially ahead of current consensus expectations."
Plus500 says it profits from "customer trading performance," meaning it's exposed to customers' winning and losing trades. CMC and IG say they hedge that risk away, gaining their income from commissions and financing trades.
ESMA, the European watchdog, and the U.K. Financial Conduct Authority crimped the amount of borrowed funds that amateur traders can load on to their bets, while some jurisdictions have banned the products outright. Regulators said they were concerned at how often investors lost money on CFD trades they didn't understand.