Virus Outbreak Drives Italians to Panic-Buying of Masks and Food
(Bloomberg) -- In the tiny hamlet of Cassago Brianza, half way between Milan and Lake Como, Giovanni Casiraghi was taken aback to find a long line of customers waiting when he opened his industrial equipment store on Monday morning.
They all asked for the same thing: a mask typically used in building sites or factories. In less than 30 minutes, he had sold more than 500 of them.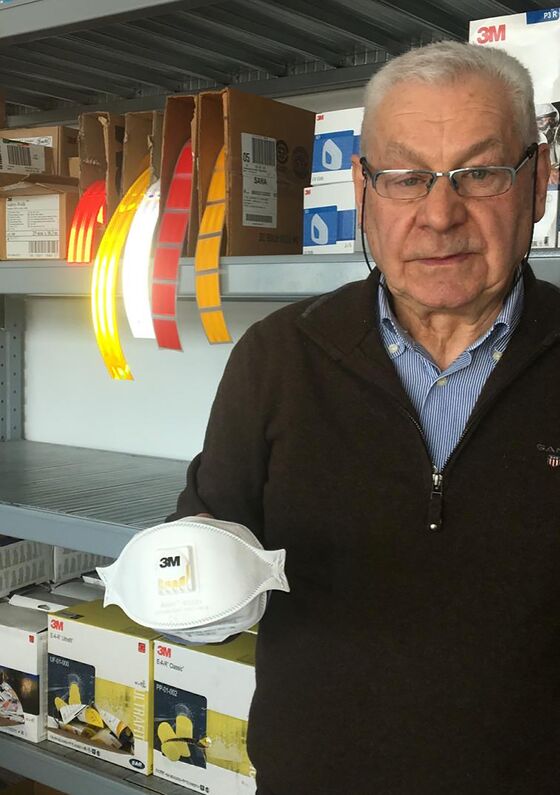 "We sell industrial equipment and I know most of our clients, so I was astonished when people I've never seen before asked for these professional masks," the 71-year-old said. "Someone told me that I was one of the few shops to still have protective masks. Panic is spreading even here, far from the epicenter of the outbreak."
The coronavirus has claimed six lives in Italy and authorities have counted 229 cases so far, in spite of the government's sweeping measures to contain its spread.  Europe's largest outbreak has brought Italy's economic engine to a near-halt, with a virtual lockdown in parts of Milan — the country's financial hub —  and the regions of Lombardy and Veneto.
The economic hit from the chilling of activity in the prosperous area from Venice to Milan, home to some 15 million people and responsible for almost a third of Italy's gross domestic product, is likely to be severe. All the more so as the country was already headed for a recession.
"The news flow is certainly worrying and, if it is not resolved quickly, it is likely to have a burden on economic activity," analysts at Mediobanca SpA said.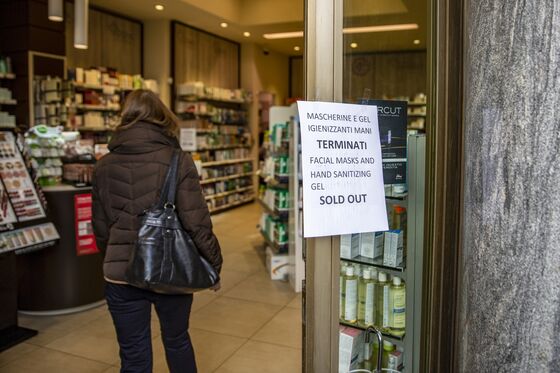 Shares on Milan's stock market suffered their largest intraday decline since June 2016, while the yield on 10-year bonds jumped.
Although minuscule relative to the worldwide death toll of 2,624 and 79,440 confirmed cases, schools, universities and museums were closed, sporting events were canceled and a curfew was imposed on bars. Pharmacies carried signs saying they've run out of protective masks and hand sanitizer. Staples like meat, bread and pasta were in short supply in some stores as consumers, many wearing surgical masks, waited in long lines to stock up.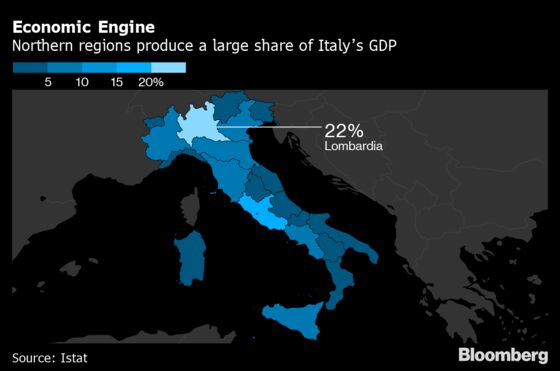 "It's total panic," said Michela, whose family owns the L'Arte del Panino bar in west Milan. "There have been very few clients today. And we have to shut down the bar at 6 p.m." She declined to give her last name.
In the heart of Milan, streets, shops and restaurants were largely deserted as many companies, including UniCredit SpA — Italy's biggest bank — encouraged employees to work from home. Piazza Duomo, usually bustling with tourists, was eerily quiet, with few pedestrians venturing outside. There were no signs of the vendors of trinkets and souveniers or those who sell corn so tourists can take pictures with the pigeons.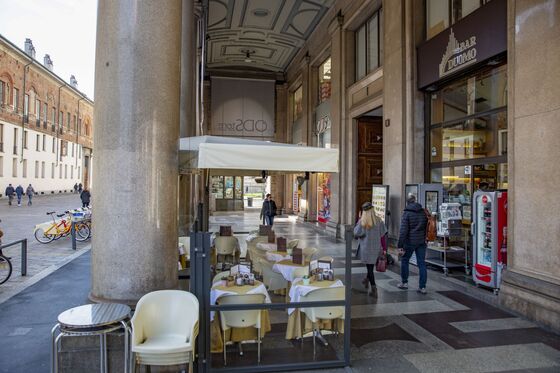 The Duomo Bar was empty at midday, when business people and tourists typically head to the cafes and restaurants surrounding the Cathedral. Armando, a bartender at one of the restaurants, wore disposable latex gloves to show tourists "that we are taking all precautionary actions and that they can safely eat and drink here." But even that didn't lure many people.
For the 50,000 people in the municipalities south of Milan, where the lion's share of cases have been identified, strict measures are in place. All work activity has come to a halt with blockades preventing travel in and out of the area.
Granted, there are pockets of calm around Milan. In the northern residential neighborhood of Affori, bars were open and full of people, some sitting outside on the surprisingly warm day. In Bresso, a northern Milan suburb with 26,000 inhabitants that borders on Sesto San Giovanni -- where a person was found affected by coronavirus -- kids crowded local parks after schools were closed.
Meanwhile, some of the Italian concerns spilled over into neighboring France, where a bus operated by Flixbus coming from northern Italy was blocked at Lyon's Perrache station. French authorities in the southeastern city were investigating a suspected case of coronavirus, regional newspaper Le Progres reported.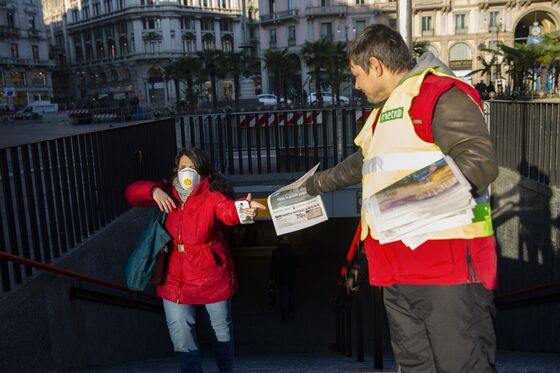 Most of Italy's cases were initially linked to a 38-year-old man who sought treatment at a hospital in the Lombardy region on Feb. 18. While there, he infected dozens of patients and medical staff, who then spread it further afield. Tracking efforts initially focused on a friend of the man, a businessman who had returned from China, but tests proved negative and the origin of the contagion remains a mystery.
"There is panic and a surreal atmosphere," said Melinda Baret, a Filipino woman working in Milan as a domestic helper. "I'm traveling using a face mask, and this morning in the metro there were fewer people than usual, most of them with a mask and the rest with a scarf protecting their face. I'm still going to all the families I work with, but I'm using a lot of precautions. I'm scared."