IMF Chief Says Virus Second Wave Is Slowing Recovery: NEF Update
(Bloomberg) -- The fourth and final day of the Bloomberg New Economy Forum focused on the future of health care around the globe in the wake of the coronavirus pandemic, which has infected more than 56 million people and killed over 1.3 million.
Stephane Bancel, chief executive officer of Moderna Inc., whose vaccine was found to be 94.5% effective in a preliminary analysis of a large late-stage clinical trial, said more investment in early testing is needed. If so, vaccines could be created even faster, he said.
Bill Gates, co-chair of the Bill & Melinda Gates Foundation, highlighted progress being made on coronavirus vaccines but was critical of other aspects of the U.S. Covid-19 response.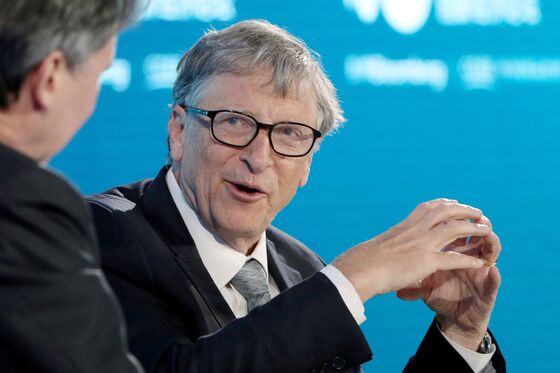 The forum opened with remarks from Justin B. Smith, CEO of Bloomberg Media and executive chair of Bloomberg New Economy. "This will not be the last pandemic to menace society," he said.
The closing panel featured former New York Mayor Michael Bloomberg, the founder of Bloomberg LP and Bloomberg Philanthropies. The New Economy Forum was organized by Bloomberg Media Group, a division of Bloomberg LP, the parent company of Bloomberg News.
IMF Chief Warns Recovery Losing Momentum (11:45 a.m. NY)
At the closing of the four-day Bloomberg New Economy Forum, leaders across the global economy spoke about some of the greatest threats facing the world, from the pandemic to climate change.
Kristalina Georgieva, managing director of the International Monetary Fund, speaking ahead of a virtual meeting of the Group of 20 this weekend, said she would urge the world's richest nations to continue their support for economies racked by the pandemic, despite the promising vaccine news in recent weeks.
"A second wave of infections is slowing down the recovery; it is losing momentum," Georgieva said. "It is so important that we don't pull back until we see the health crisis in the rear-view mirror."
Kevin Sneader, global managing partner of McKinsey & Co., spoke about the importance of investing in health care, while Ruth Porat, senior vice president and chief financial officer of Alphabet and Google, highlighted efforts to work across industries to ensure everyone can participate in the economy.
Michael Bloomberg spoke about the importance of acting on climate change and strong leadership to get out of the public-health crisis. And while coronavirus vaccines have been developed exceptionally quickly, questions still remain about the efficacy and duration of protection, he said.
"We're going in the right direction, but we have a lot of pain and suffering that we're going to have to get through," Bloomberg said.
Vaccine Access Needed to Aid Economies: WHO (10:40 a.m. NY)
Wider access to health care, with an emphasis on prevention and public health, is needed to secure economies and prosperity, said Tedros Adhanom Ghebreyesus, director-general of the World Health Organization.
"When people are healthy, they can learn earn and innovate," he said. "When people are sick, the whole of society suffers. And when a pandemic hits, the entire foundation of economies can crumble."
Pandemic vaccines from Pfizer Inc. and Moderna Inc. have been showing promising signs of effectiveness in large-scale clinical trials. Immunizations against the coronavirus should be made available worldwide, in poor countries as well as the rich, to help put the world on the road to economic recovery, Tedros said.
"This is not just a moral imperative and a public health imperative, it's also an economic imperative," he said. "If people in low- and middle-income countries miss out on vaccines, the virus will continue to spread and the economic recovery globally would be delayed."
Universal health care is WHO's highest priority and the agency has established a Council on the Economics of Health for All to focus on the links between health and sustainable, inclusive and innovation-led economic growth, he said.
Gates Critical of U.S. Virus Effort (10:32 a.m. NY)
Billionaire philanthropist Bill Gates highlighted progress being made on coronavirus vaccines but was critical of other aspects of the U.S. Covid-19 response.
News that vaccines from Pfizer Inc. and BioNTech SE as well as Moderna Inc. are about 95% effective bodes well for other experimental shots and the global effort to manufacture huge amounts of coronavirus vaccines, Gates said in an interview with John Micklethwait, editor-in-chief of Bloomberg News.
But when it comes to the U.S. pandemic response, the "only thing" the U.S. did well was fund research and development of new medicines from companies around the world, Gates said. It fell behind in other areas, like getting diagnostic testing out to trace virus cases, he said, calling the country's failure to control the virus "mind-blowing."
The Microsoft Corp. co-founder was particularly critical of the U.S. government's role, saying that the private sector isn't able to message and bolster trust in public-health measures like wearing masks and other behavioral changes.
"We didn't catch the epidemic at that early stage where the numbers are small before they get exponentially big," Gates said. He went on to warn that the colder months will be "very tough," though progress being made on vaccines and therapeutics like monoclonal antibodies will help.
Africa's Big Challenge Is Vaccine Access (10:30 a.m. NY)
Africa avoided the catastrophic outcomes many predicted when the pandemic first struck. Now, the biggest challenge for the continent is winning equitable access to vaccines.
"Making sure that there is equitable access, on time, which looks at all life as being equal, is the big issue," said Strive Masiyiwa, the billionaire founder and executive chairman of African telecom company Econet Group. "We're going to have a big fight about this, and we'll continue to have a big fight about this until this is over."
Despite many of its countries having underfunded health systems, Africa has had lower infection rates and fatalities than more developed regions. While its too early to know exactly why, Graca Machel, Mozambique's former education and culture minister, said having time to prepare as the virus ravaged Europe, helped. Communication campaigns informed citizens about how to protect themselves and others. Lockdowns saved lives, she said.
The private sector also played a big role, said Aliko Dangote, Africa's richest man. Together with the Nigerian Central Bank governor, Godwin Emefiele, he helped raise $112 million that went to building 39 isolation centers and getting personal protection equipment and basic food stuff for the poorest citizens in the continent's most populous country, he said.
Still, the impacts of the pandemic will remain long after the vaccines arrive, said Machel, who's also Nelson Mandela's widow. For children in millions of poor families, the entire 2020 school year was lost. As many as 10 million children more than normal were forced into early marriages, too she said.
"The consequences are going to be with us for a long, long time," said Machel.
Telemedicine Helping India's Poor (9:48 a.m. NY)
Sabahat Azim knew India's health-care system wasn't serving the nation's poor, rural residents. He wanted to create something to bridge the gap between private and public options. He tapped technology.
Azim's company, Glocal Healthcare Systems, uses telemedicine to connect doctors in urban centers with people in remote areas of India. The company can create a mini-clinic that costs about $25,000 to build and can be set up in less than a day. There, workers can perform tests, check people's vitals and upload the data to Glocal's clinical-decision support system, which helps doctors make better diagnoses and allows them to focus more on their patients.
"To solve the problem of the poor, it's a bad thing to do when you think of putting in a cheap thing," Azim said in a presentation called "New Economy Game Changer on Health." "You have to be able to put the most expensive thing that can create so much productivity that the product itself can be cheaper in the hands of the person."
Glocal operates about 240 clinics and 11 hospitals across India.
Standardized Data Called Key to Virus Fight (9:45 a.m. NY)
In the age of big data, one of the biggest challenges is often standardizing that information, panelists said during a virtual session on digital health.
"By far the thing that needs to be in place is more standardization," said Lauren Gardner, an associate professor in the Department of Civil and Systems Engineering at the Johns Hopkins Whiting School of Engineering.
The Johns Hopkins global Covid-19 dashboard has become a widely cited tool helping both public and officials keep tabs on the spread of the virus. But, she said, the data the university collects from around the world that the dashboard runs on often take into account different variables — a challenge in presenting an accurate global picture of the pandemic.
Nandan Nilekani, chairman and co-founder of Infosys Ltd., said data standardization will become even more important as vaccines are rolled out around the world. Many vaccines, he said, will gain emergency-use authorization rather than go through the typical, stricter approval processes. Tracking things like side effects to gain more insight into the safety and efficacy of those vaccines will be crucial.
"That's all data," he said.
23andMe Uses DNA to Shine Light on Covid (9:15 a.m. NY)
When the pandemic hit, 23andMe Inc. CEO Anne Wojcicki quickly realized her company's massive consumer DNA-testing database could be a tremendous asset.
"The first thing we realized is that, one, we weren't going to play a role in testing," she told David Rubenstein during a New Economy Forum session on Thursday. "For all kinds of reasons, we're not set up to do Covid testing. But what we really are set up to do is to do research at scale. So what we did on April 6, we decided we were going to put out a Covid-related survey to our customers."
Weeks later, a million people had taken 23andMe's Covid-19 survey, including more than 20,000 who had contracted the illness. So far the company's research has suggested a genetic link between the virus and blood type, adding weight to similar research.
The company, she said, is continuing to look for other genetic signals related to the virus. That, she said, has always been part of the key mission of 23andMe: to not only use DNA to better understand disease but also potentially to prevent it.
"When I look at sort of why certain populations are getting sick more, or some people die, or they seem to be exposed but not get it, it makes me think that there are going to be more genetic findings," she said.
Moderna CEO Says Vaccines Can Be Made Faster (9 a.m. NY)
Moderna CEO Stephane Bancel said even a modest investment in vaccines against the most-threatening viruses could help companies like his create inoculations much faster during the next emerging epidemic.
Moderna brought its Covid-19 vaccine to the verge of regulatory authorization in about 300 days. But if health authorities had invested in early testing of vaccines against 10 or 20 of the most-threatening emerging viruses, Moderna could shave several months off those timelines in the next epidemic, he said.
During the panel, he said Moderna's vaccine trial was on track for getting final results from its big trial in a week or so.
"What makes me more excited is the fact that 11 people with severe disease, they were all on placebo," Bancel said. That suggests that not only will the vaccine prevent almost all cases but that the remaining few infections will be mild.
People still need to employ public-health measures like wearing masks, Bancel said. The vaccine "is not a silver bullet," Bancel said.
Virus Hunters Call for Early-Warning System (8:30 a.m. NY)
Three of the world's top virus hunters said that nations need to invest in systems that would detect emerging viruses before they infect people and spread around the world.
"We haven't had the kind of early-warning system and investment in this kind of early-warning system that we've needed from the very beginning," said Anne Rimoin, a professor or epidemiology at the UCLA Fielding School of Public Health. "We really need to be able to invest in protecting ourselves from viruses."
Rimoin spoke on a panel with Peter Daszak of EcoHealth Alliance and Linfa Wang, director of the program in emerging infectious diseases at the Duke-NUS Medical School in Singapore.

Viral outbreaks are "happening more frequently, they're spreading quicker, they're killing more people and they're crushing our economies most substantially," said Daszak. He estimated that there are 1.7 million unknown viruses in the world. It would cost over a $1 billion to identify 70% of them, but it would be money well spent, Daszak said

Potential emerging viruses should be viewed as a national security threats and tracked with the same intensity the government watches out for terrorist threats abroad, Daszak said.
After 9/11, the U.S. government "tracked every single phone call coming into the U.S., a pretty revolutionary piece of surveillance," Daszak said. "Why aren't we doing that with pandemics?"