Virus Hits Hong Kong Insurers Already Reeling From Protests
(Bloomberg) -- For Hong Kong insurers, the coronavirus outbreak is a second blow.
Already reeling from at-times violent demonstrations that slowed the flood of Chinese travelers -- one of the biggest sources of new policyholders -- to a trickle, the spread of the virus has seen transactions virtually grind to a halt.
A team of more than 100 agents working for one of the city's biggest insurers has seen sales to mainland visitors plummet to "almost nothing," according to a senior member of the group. Only two agents have managed to sell a policy since late January -- when the virus started spreading more broadly -- generating just HK$100,000 ($12,880) in first-month premiums, compared to about HK$5 million in January last year.
"Hong Kong's protests were nothing compared with the blow of the virus to us," said Zhou, who manages the 100-strong team, and asked their first name not be used because the matter is private. "This is the worst I have ever seen."
Chinese customers have long flocked to Hong Kong for insurance policies sold by the likes of AIA Group Ltd. and Prudential Plc, in part because the products offer an investment component and payouts in foreign currencies that are hard to come by on the mainland.
AIA shares have fallen 6.4% in Hong Kong trading since Jan. 20. Prudential shares have declined 2.6% in the city.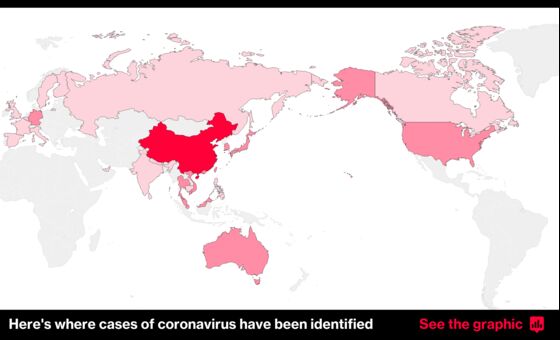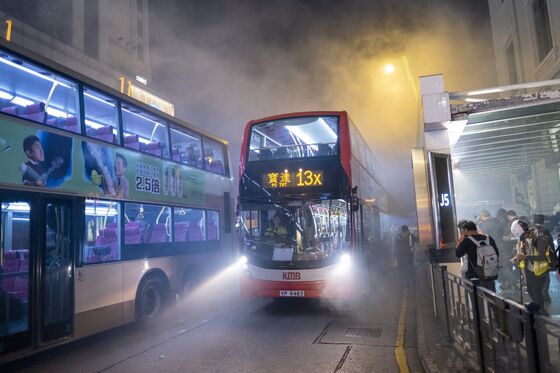 The double-whammy of the protests and the virus are pummeling sales because industry rules require policyholders be physically present in the city before a contract can be finalized. Sales to mainland Chinese customers plunged 18% in the third quarter from a year earlier.
"We believe the new coronavirus outbreak is a near-term major negative for life insurance, on both sales and investment/valuation," Daiwa Capital Markets analysts led by Leon Qi wrote in a Jan. 29. note.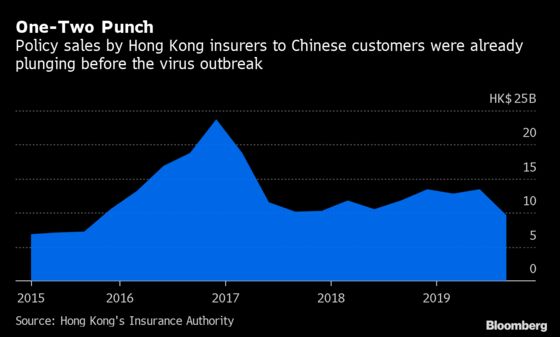 AIA declined to comment on the effect of the outbreak on its business, saying it is in a blackout period before full-year results are released next month. Prudential also declined to comment.
For insurers on the mainland, policy sales will probably take a short-term hit before quickly recovering as the outbreak spurs people's awareness for the need for insurance, such as life or health cover, Tianfeng Securities analysts led by Xia Changsheng wrote in a Jan. 31 report.
They expect first-quarter new business value at Ping An Insurance (Group) Co. to plunge 10%; decline 6% at New China Life Insurance Co.; and 3% at China Pacific Insurance Group before stabilizing later in the year.
Ping An shares have fallen 8.8% in Hong Kong since Jan. 20, New China Life has slumped 12.7% and China Pacific is down 10.4%.
Hong Kong reported its first coronavirus death Tuesday, and has 18 other confirmed cases. The virus has killed almost 500 people and infected more than 24,000 others.
The city sealed off more checkpoints with China earlier this week after the nation halted group and individual tours late last month. Around 70% of Chinese travel to Hong Kong on individual or group tours (the rest come for work or to visit family), Goldman Sachs Group Inc. analysts Thomas Wang and Stanley Tian said in a Jan. 29 note to clients.
"A persistent suspension of the scheme would have a significant impact on insurance sales to mainland visitors," they said. "Furthermore, we believe sales to local customers could also be affected as customers may be reluctant to meet with agents on contagion concerns."
AIA is set to face short-term pressure from the escalating impact of the outbreak, Citigroup Inc. analysts said in a note. Cross-border visitor numbers could slump a further 80% this quarter if all travel permits are immediately suspended, they said.
"I can't think anyone would want to risk their life, taking a train or flight, passing the border, to buy an insurance product at such a time," said Zhou, the insurance agent. "No one is in the mood to buy insurance, there is nothing you can do but wait for the hardest time to pass."