Virus-Hit Travel Sector Starts Tapping $73 Billion Loan Cushion
(Bloomberg) -- Airlines, hotels and cruise operators are beginning to dip into $73 billion of back-up cash facilities and new loans, as the coronavirus hammers global travel demand.
Air France-KLM said on Friday it has drawn down a 1.1 billion-euro ($1.2 billion) revolving facility -- a sort of rarely used corporate overdraft that most high-grade borrowers have in place. Hilton Worldwide Holdings Inc. has also said it's using a revolver, potentially to be joined by casino operator Wynn Resorts Ltd.
The industry has also raised $6 billion of new syndicated loans this year, helping it weather the virus impact, including United Airlines Holdings Inc.'s recent $2 billion short-term loan and new revolving facilities for Royal Caribbean Cruises Ltd. and Norwegian Cruise Line Holding Ltd. The financing comes as airlines and cruise operators chop services to cut costs amid the demand slump.
The outlook for aviation "is more pessimistic than the SARS impact," said Azza Chammem, analyst for airlines and transportation with Scope Ratings. Even investment-grade carriers may find it harder to raise debt in public markets, he said.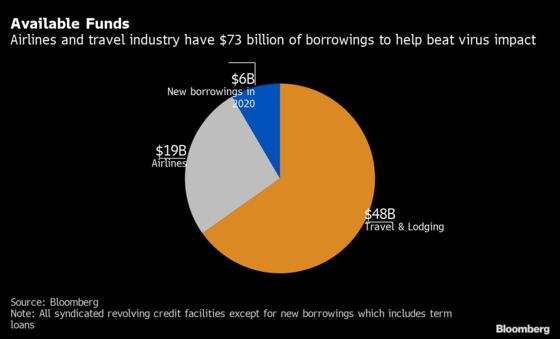 The $6 billion of new financing this year is in addition to the travel industry's existing revolving facilities. Airlines had $19 billion of revolvers available worldwide, while travel and lodging borrowers, including cruise operators, had $48 billion, according to Bloomberg data.
Royal Caribbean this week increased its revolving facility by $550 million to boost liquidity amid the Covid-19 outbreak. Norwegian Cruise raised a new $675 million facility as a "proactive measure". This facility and an earlier one are undrawn, the Miami-based company said March 9.
Airline suppliers are also boosting financing to help weather the virus impact. Planemaker Boeing Co. is set to draw down the second half of a $13.8 billion loan signed last month, according to people familiar with the situation. Lessor AerCap Holdings NV has held talks about using at least some of the $6.6 billion of credit it has access to, according to people with knowledge of the matter.