Brussels Edition: Time for a Schengen Shutdown?
(Bloomberg) -- Welcome to the Brussels Edition, Bloomberg's daily briefing on what matters most in the heart of the European Union.
Brexit Mandate | EU government envoys in Brussels will today seek to finalize a mandate for the Commission to negotiate the bloc's post-Brexit ties with the U.K. The latest wording of the draft proposal requires the the U.K. to maintain "common high standards" with the EU "over time" in areas such as state aid and environmental protection.
Inflation Perils | The recent jump in consumer prices in eastern Europe may be a harbinger of things to come in western economies that still have ultra-low interest rates more than a decade after the 2008 financial crisis. Here's why you can only write off inflation at your peril.
Bulgaria Backtracks | Bulgaria postponed a key part of its bid to adopt the euro and will advance only if its banks are ready and there's a wide consensus among citizens. The delay is a setback for the country of 7 million, which has struggled to overcome being labeled as one of the poorest and most corrupt members of the EU.
Climate Pressure | The U.S. gave into European pressure over environmental concerns, allowing the word "climate" into a joint communique at a G-20 meeting of finance ministers and central bankers. The same harmony, however, wasn't found on the issue of a global tech tax, the source of U.S. ire against Europe and a possible trigger for further transatlantic trade fights.
Super-capacitors | The power supply of your sleek new Tesla Model S or electric BMW has a distinctly 19th century feature that you may not be aware of. A company in Estonia wants to change that, Ott Ummelas reports from Tallinn. 
Nuclear Dilemma | France's decision to shut its oldest nuclear reactor is stirring controversy about whether President Emmanuel Macron is making the right decisions to reduce fossil-fuel pollution and meet climate targets. Scaling back nuclear will probably result in natural gas getting a bigger foothold in what has historically been one of the cleanest power systems in the world.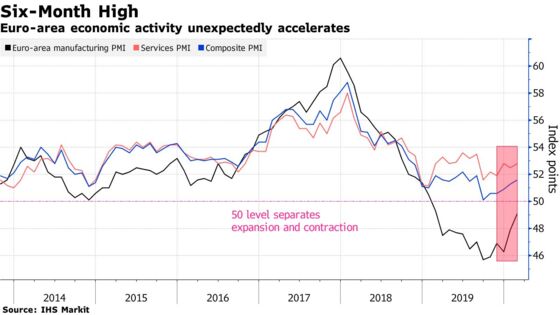 Economic activity grew faster than forecast in the euro region in February, even as first signs of the coronavirus's effect became apparent. Eurozone activity accelerated at the fastest pace in six months, with services proving resilient as factories battled challenges such as supply-chain disruption from the virus outbreak.
9:15 a.m. EU health chief Stella Kyriakides and Janez Lenarcic, commissioner for emergency response coordination, give a press conference on the EU's response, preparedness and financial support to fight the Covid-19 outbreak
2:30 p.m. EU government envoys in Brussels discuss mandate for the Commission to negotiate post-Brexit ties with the U.K.
A delegation of EU lawmakers visits Washington to meet their Congress counterparts, State and Treasury Department officials to address trade irritants
A delegation of EU lawmakers visits Ankara for meetings with Turkish government representatives to discuss the latest developments in EU-Turkey relations
A European Parliament delegation will travel to Washington and Boston to discuss EU-U.S. cooperation on data protection
Germany's Annegret Kramp-Karrenbauer to give update on the plan for her succession at the helm of the CDU party
Former French Prime Minister Francois Fillon and his wife go on trial over allegations they reaped more than 1 million euros for a fake job
Romania's designated prime minister Ludovic Orban faces a confidence vote in Parliament
Paris fashion week starts with coronavirus wreaking havoc