Virus Exacerbates Worst Start to Year in Decade for Europe Loans
Europe's loan market has made the worst start to the year for at least a decade -- and that's before the escalation of the coronavirus crisis.
Deals have plunged about 50%, with just 23 billion euros ($25 billion) of high-grade corporate loans being signed versus 43 billion euros a year earlier, according to data compiled by Bloomberg. Germany's Schuldschein debt market has also been quiet.
Uncertainty caused by the arrival of the coronavirus in Europe may deepen the slump, with a few companies already delaying fund raising plans, according to bankers who asked not to be identified citing client confidentiality. The emergence of the virus in Asia was one reason for the slow beginning to the year, alongside competition from the bond market and geopolitical risks, such as Brexit.
"It is currently impossible to predict with any reliability where the market is heading," said Neil Weiand, a partner at law firm Linklaters, who works on loans and Schuldschein. The coronavirus hasn't helped sentiment after a "sluggish start" to the year, he said.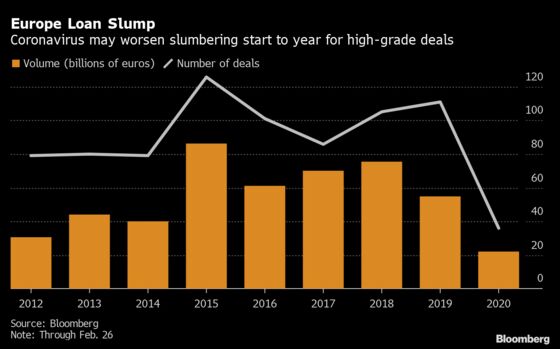 Loan numbers have fallen even faster than volume, with just 37 companies signing deals this year compared with 94 a year earlier. In the Schuldschein market, only six deals have been offered this month versus 12 in the whole of February last year.
Revolving credit facilities, which make up the bulk of the loan market, have dropped about half this year to 15 billion euros. The adoption of sustainability-linked pricing is the market's one bright spot, including the year's biggest deal. Shipping giant AP Moller-Maersk A/S got a $5 billion facility with pricing goals linked to emissions as a replacement for an undrawn traditional deal of similar size.
Issuance of term loans has slumped to about 7.5 billion euros as borrowers shy away from new investments or acquisitions. Sales of Schuldschein are down 18%. The slump has been cushioned by deals that were pre-sold last year.
Prolonged virus concerns could eventually lead to pickup in loan and Schuldschein activity if the corporate-bond market freezes up, as companies may to turn to banks as an alternative source of funding, according to Klaus Distler, head of corporate DCM at Landesbank Hessen-Thueringen Girozentrale.
Still, that may only provide a limited benefit to the loan market, if the spread of the virus, officially called COVID-19, sparks a recession that further cools corporate investments.
"A global recession is likely if COVID-19 becomes a pandemic, and the odds of that are uncomfortably high," Mark Zandi, chief economist at Moody's Analytics, said in a research note.