Virus Concerns Hit Shares in Builder of World's Tallest Tower
(Bloomberg) -- Dubai's Emaar group felt the downside of being a proxy for investments in the local exchange as traders rushed to price in the impact of the coronavirus on the city's real estate, hospitality and retail industries.
Shares of Emaar Properties PJSC, developer of the 828-meter (2,716-foot) high Burj Khalifa, slumped 10% this week after more than 230 cases of the virus were confirmed throughout the Middle East. Subsidiaries Emaar Malls and Emaar Development lost 4.7% and 8.4%, respectively.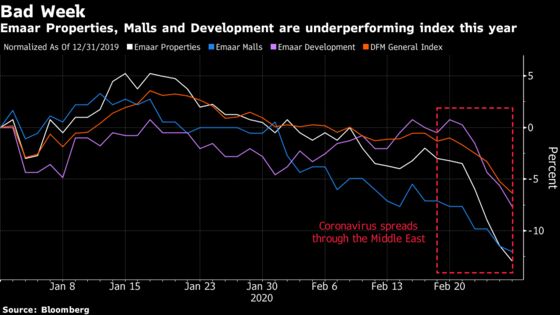 While analysts and investors assess the full effect of the outbreak on business in the region, there are already signs of the potential damage to come. Emirates, the world's largest long-haul carrier, suspended flights earlier this month to Guangzhou and Shanghai, while continuing those to Beijing. The United Arab Emirates this week halted all flights to Iran, the epicenter of cases in the region.
The upheaval could hardly come at a worse moment for the listed Emaar companies, which combine to represent about a fifth of Dubai's main equities index. Emaar Properties has been battered along with its developer peers in the past two years by a slump in the local real estate industry amid a slowing economy. The holding company posted a 4.3% drop in revenue for 2019 as it eked out a slight gain in net income.
"When we talk about Emaar, we are talking about a group that is specialized in several fields of Dubai's daily life -- hospitality, malls, development and real estate," said Marie Salem, head of institutions at Daman Securities. At the same time, the shares' decline have made their valuations tempting, she said. "Caution remains the main factor and, once the situation allows, we will see huge interest on the names as they have became so cheap."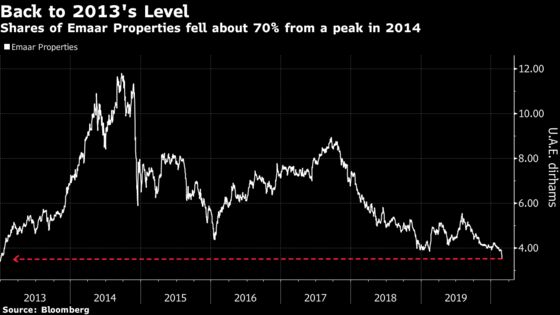 Reducing the stream of visitors to Dubai would deliver a blow to the Emaar companies, which rely partly on foreigners to shop in their malls and purchase properties. Almost a million Chinese traveled to Dubai last year, a 15% increase from 2018 and a figure that placed the country among the top-five sources of visitors, according to official figures. Arrivals from Iran totaled 284,000.
Emaar Malls boasts the sprawling Dubai Mall as its flagship asset, and the giant shopping center located at the base of the Burj Khalifa, the world's tallest tower, is among the city's main tourist attractions. On the boulevard that surrounds the skyscraper and leads to the mall, advertisements promote high-end apartments and villas, with marketing material in Chinese, English and Arabic.
"Emaar gets hurt in multiple ways," said Vrajesh Bhandari, senior portfolio manager at Al Mal Capital in Dubai. "It has direct exposure to hotels and retail -- where it is not just tourists, but also local residents who are cutting down on anything discretionary. For many foreigners, the company is a proxy for the U.A.E. if not the whole of the Gulf, so if you have to sell the region, Emaar is the target."