Virtu Is Pursuing Takeover of Investment Technology Group
(Bloomberg) -- High-speed trading firm Virtu Financial Inc. is seeking to acquire independent brokerage Investment Technology Group Inc. as pressure mounts for proprietary traders to branch out.
Virtu is working with a financial adviser to pursue ITG, according to people familiar with the matter, who asked to not be named because the information isn't public. The companies have recently been holding talks about a deal. No decision has been made and ITG could decide to remain independent.
Representatives for Virtu and ITG declined to comment.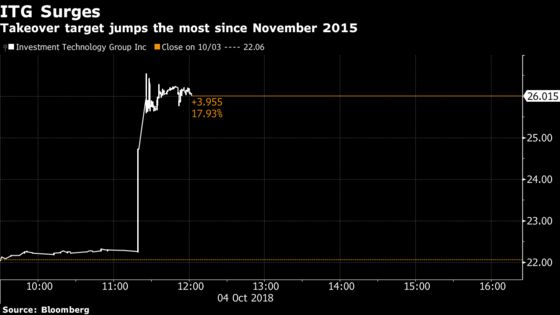 A purchase of ITG would continue Virtu's transformation from a company that places bids and offers on exchanges to one that has relationships with customers. Virtu's $1.3 billion acquisition of rival high-frequency trader KCG Holdings Inc. last year gave it a business that executes orders for retail brokerages. ITG would deliver big institutional investors.
ITG shares surged as much as 20 percent, the most since November 2015. The stock rose to $26.14 at 11:59 a.m., valuing ITG at $862 million. Virtu jumped 9.6 percent to $22.63, valuing it at about $4.31 billion.
ITG, based in New York, offers equity, options, derivatives and other trading products. It also runs a private trading platform known as a dark pool.