GOP's Youngkin Builds Lead Against McAuliffe in Virginia Governor Race
(Bloomberg) -- Republican newcomer Glenn Youngkin maintained a narrow lead over Democrat Terry McAuliffe in returns for Virginia's gubernatorial election, according to the Associated Press. 
With 93% of precincts reporting, Youngkin, a former co-chief executive officer of the Carlyle Group Inc., had 51.1% of the vote, compared to McAuliffe's 48.2% with 3,104,466 ballots counted, a state record for a gubernatorial election. Polls closed at 7 p.m. Earlier returns showed a wider Youngkin margin. 
The results will provide the most consequential assessment of President Joe Biden's agenda to date and gauge Republican momentum heading into 2022 midterm elections that will decide which party controls Congress.
Republicans were seeing heavy participation in their strongholds, though heavily Democratic areas in the Washington suburbs saw turnout around 96% of 2017 totals, Dave Wasserman of the nonpartisan Cook Political Report wrote in a tweet Tuesday, based on his analysis of voter turnout reports in late afternoon.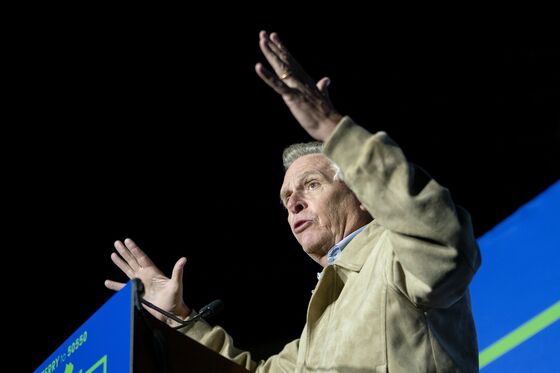 Republicans including former President Donald Trump and House Minority Leader Kevin McCarthy began declaring victory in Virginia citing the strong early returns even before a formal announcement by AP or television networks.
Two election prognosticators, Wasserman, and Decision Desk, said that Youngkin won ahead of official results. CBS News characterized the race as leaning to Youngkin. Fox News said that Youngkin has a clear advantage. 
Surveys had showed Youngkin gaining steadily on McAuliffe, who held a commanding lead for much of the summer. They were tied for the last few weeks.
Biden, at a news conference in Glasgow, Scotland, on Tuesday predicted McAuliffe would win and encouraged Democratic voters to turn out. He also sought to separate the possible electoral setback from the prospects of his infrastructure bill and $1.75 trillion social spending package that has so far been mired in intraparty bickering in Congress. 
And he said it's no reflection on his presidency if McAuliffe loses.
"I don't believe, and I've not seen any evidence, that whether or not I am doing well or poorly, whether or not I've got my agenda passed or not, is going to have any real impact on winning or losing," Biden said. 
The race was closer than expected in a state Biden carried by 10 points in 2020. Anything short of a poll-defying wide victory by McAuliffe is sure to rattle Democrats. Biden's stalled agenda and sour approval ratings may also scare moderates from aligning themselves too closely with him during next year's mid-term campaigns.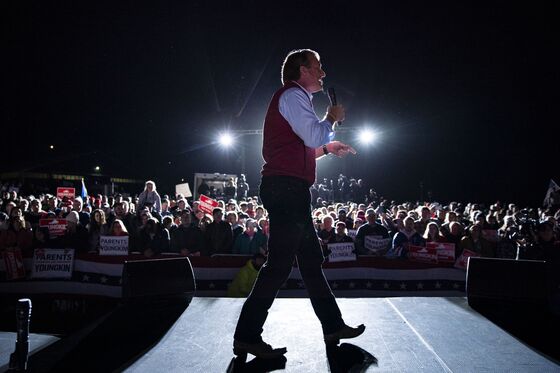 A Youngkin win would be a boost for Republican prospects to take control of both chambers of Congress. 
Democrats narrowly control the House, and the Senate only with Vice President Kamala Harris's tie-breaking vote. History shows that the party that has control of the White House typically loses seats in Congress. 
"This being the first mid-term of the election cycle, or a kind of mid-term, the elections favor the party out of power," said Neil Newhouse, a Republican strategist. "It's kind of a perfect storm. The political environment is such that Youngkin has some wind at his back." 
Virginia also tends to punish the president's party. In the last 12 Virginia gubernatorial elections, the president's party has won only once: when McAuliffe was first elected in 2013. Virginia governors cannot serve back-to-back terms but can run again. 
The state has leaned toward Democrats in recent elections. It it voted 54%-44% for Biden over former President Donald Trump in the 2020 presidential election and 54%-45% for Democrat Ralph Northam over Republican Ed Gillespie in the 2017 governor's election.
That means Youngkin, needs to run on average about 5 percentage points ahead of Trump and Gillespie's performance to defeat McAuliffe.
Youngkin's strategy was to keep Trump's voters by appealing to them in the primary while peeling off some independents who backed Biden in the general election.
McAuliffe took advantage of the state's new, 45-day early voting period, among the longest in the country, to bring in party heavyweights including Biden, Harris, former President Barack Obama and other big names to stoke turnout. 
Youngkin also targeted early voters with a series of small events outside polling places, even though Republicans are more skeptical of early voting in part because of Trump's repeated attacks on the practice. 
McAuliffe repeatedly sought to tie Youngkin to Trump, but also ran on a slate of positions that largely reflect Biden's, including paid family leave, clean energy and an increase in the state's minimum wage. 
"I don't think McAuliffe was successful at painting him as a Trump acolyte," Newhouse said. 
Youngkin embraced Trump in more rural parts of the state, while keeping the former president at arm's length and refusing to campaign with him. The Republican highlighted both hot-button issues like mask mandates and critical race theory as a K-12 curriculum with moderate ideas like cutting a grocery tax.
The high stakes sparked fundraising for both candidates and made this year's contest the state's most expensive yet, according to the nonpartisan, nonprofit Virginia Public Access Project.
A former chairman of the Democratic National Committee and Democratic Governor's Association, McAuliffe raised $57.1 million for the race. But Youngkin had $57.7 million to spend, thanks in part to a $20 million personal loan to his campaign. 
Earlier in the campaign, polls showed the coronavirus was a top concern, an issue where more voters trusted McAuliffe's stricter approach to mask and vaccine mandates.
But as the pandemic faded, education came to the front, fueling a surge in the polls in October for Youngkin, who had fought McAuliffe to a tie on the traditionally Democratic issue by opposing critical race theory, which is not taught in Virginia schools, and tapping into a general sense of frustration among parents during the pandemic.
In a Fox News poll taken in late October, 52% of likely voters said they trusted Youngkin more on education, compared to 44% for McAuliffe, a 10-point reversal from a Fox poll earlier in the month.
But preliminary exit polls from the Associated Press showed the top issue among voters was the economy and jobs, which was cited by 34%. The coronavirus was second with 17% and education in third with 14%.