At $61,000 Per Amazon Job, New York Pays Twice What Virginia Does
(Bloomberg) -- In the sweepstakes over Amazon's second headquarters, Virginia got a bargain -- at least compared with its northern counterpart, New York City.
Virginia's state and local governments agreed to shell out as much as $796 million in tax incentives and infrastructure improvements over the next 15 years in exchange for 25,000 well-paying tech jobs. That works out to just under $32,000 per job -- about half of the $61,000 per job that Amazon said it will receive from New York to create the same number of jobs at the site in Long Island City in Queens.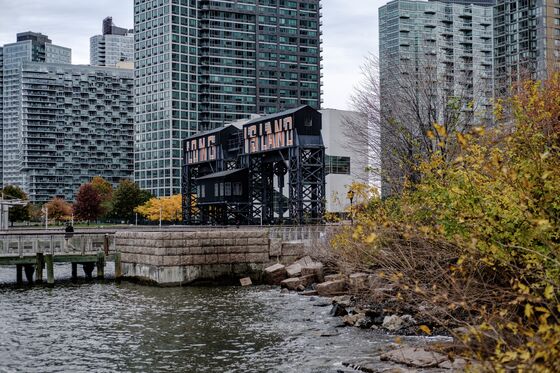 New York Governor Andrew Cuomo said the public expense -- and the possible number of jobs -- would be even higher in Long Island City. Cuomo said the state and city will spend as much as $3 billion for Amazon to create as many as 40,000 jobs.
In addition to the new jobs, Amazon's presence is expected to boost the northern Virginia region economically by attracting billions in additional private investment around the complex, which is slated to include office, residential and retail development. It may also exacerbate the already fragile public transportation system and clogged roadways, and raise housing prices. In fact, Amazon has asked for the county to support its request for a company helipad at the location -- which may allow some at least to avoid transit logjams.
The northern Virginia region has been adding about 40,000 jobs a year, so accommodating the new Amazon workforce won't be a problem, according to Victor Hoskins, the head of Arlington County's Economic Development department. There is plenty of capacity in the area and in the transit system to accommodate the new workers, Hoskins said in an interview Tuesday.
Amazon's new presence would push down Arlington County's office vacancy rate, which was elevated following the financial crisis and federal budget sequestration, the Arlington Chamber of Commerce said.
Greg LeRoy, executive director of Washington-based Good Jobs First, which tracks government investments in businesses, says Virginia is getting a good deal.
"If that's all the money Virginia is giving, it's not obscene," he said. "It's way below our megadeal threshold."
The Washington area has long seemed like an obvious choice for Amazon, which has rapidly expanded its influence operation in the capital as its diverse business lines came under the eye of dozens of government agencies. The company is also pursuing a $10 billion Defense Department cloud-computing contract, for which it is seen as the front-runner.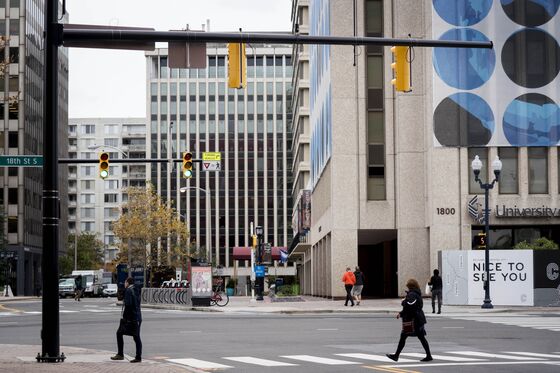 Amazon's decision suggests that the company put a premium on the labor pool, proximity to universities, space for growth and access to Washington decision makers, rather than tax breaks. The company has faced criticism over the past year that it was looking to fleece taxpayers with a public bidding process that pitted cities and states against one another.
"We were looking for a location with strong local and regional talent -- particularly in software development and related fields -- to continue hiring and innovating on behalf of our customers," the company said in a blog announcing the decision.
Multiple analysts, however, suggest the influx of workers and their families would raise housing prices in the already tight market. The Urban Institute predicted in October that the region would need 235,000 more housing units to keep up with then-expected job growth by 2025. Even without the addition of an new Amazon campus, that level of need would require "a pace of housing production substantially above current levels," it wrote.
While Virginia's offer seemed in line with many other public bids for the number of jobs, LeRoy said, New York has always been among the most generous in terms of giving tax breaks. New Jersey, Maryland and Missouri were all willing to shell out about $140,000 per job to bring the online retailer Amazon.com Inc. to their states.
In New York, Amazon would spend about $2.5 billion to create an 8.5 million square foot campus on the East River waterfront facing Manhattan from Long Island City, a location close to both LaGuardia and John F. Kennedy International Airports, with access to Manhattan via a 10-minute ferry ride and several subway lines.
Cuomo described the Amazon deal as "the largest economic development initiative that has ever been done by the city or the state" or both together, at a press conference Tuesday alongside Mayor Bill de Blasio and Amazon Vice President of Global Real Estate John Schoettler.
Cuomo said the state and city would be getting a 9-to-1 return on almost $3 billion worth of incentives, with revenue totaling $27.5 billion over 25 years. "That is the highest rate of return for an incentive program that the state has ever offered," Cuomo said.
According to Cuomo, the state and city investments would total $2.988 billion. The state would give $1.2 billion in tax credits and $505 million as a capital grant. New York City, through its Economic Development Corp., would provide $897 million in job creation and relocation assistance and $386 million in industrial-use tax abatements. The company also agreed to make payments to the city instead of property taxes, to be used for local transit, schools and public open space.
In Long Island City, Amazon chose New York's fastest growing neighborhood, where 1,436 new housing units were approved in the 12 months ending July 1. Just two weeks ago, the city committed $180 million to build new sewers and water mains, parks and repair streets.
New York City Council Speaker Corey Johnson faulted the agreement for failing to include local participation. Jimmy Van Bramer, the councilman representing the neighborhood, said he wasn't consulted or even advised that the deal had been made.
"Amazon is one of the richest companies in the world, but you can't put a price on community input, which has been missing throughout this entire process," Johnson said. "I find that lack of engagement and the fact that the negotiations excluded the City Council – which is elected by New Yorkers to guide land use projects with communities in mind – extremely troubling."
The subsidies Amazon secured are far from the richest ones governments have given to businesses promising to create jobs. The average per-job cost in so-called megadeals -- incentive packages of over $50 million -- is $658,000, according to Good Jobs First, which tracks government investments in business.
In terms of the dollar value of the overall package, New York State's HQ2 offering, using Amazon's numbers, ranks as the 14th-largest deal since 1976. Virginia's is the 26th, just above the $750 million deal Solar City secured to build a factory in Buffalo in 2014.